April 5, 2011
Cookies are for eating
A new EU directive will require that websites get their users' clear consent for all cookies by May 25, according to Deutsche Welle. This could mean endless pop-ups repeatedly asking for your permission to store info.
In Norway, online cookies could become illegal by the end of April. E24 wrote about this back in January, and it's worth repeating. Anders Willstedt, leader of Inma, an interest group for interactive advertisers, told E24:
"If this goes through, it will send the Internet back to the stone age. The people who drafted this bill don't know enough about how the Internet works. It would mean that loading the front page of the newspaper Dagbladet would require ticking 27 'permission to store cookies' boxes."
It all depends on what we mean by consenting to cookies. Yahoo, Google and Firefox are working on various ways of letting us give or deny permission to store cookies once and for all, instead of every single time we load a page.
For the other kind of cookies, the answer is much, much simpler:
Image source: Cookie monster by Chibcha, Creative Commons. The cookie sign is mine, photographed in my old apartment.
Posted by Julie at 2:43 PM | TrackBack
February 3, 2011
Lost
My back-up hard drive stopped working today. It won't turn on, and I don't know yet if the data on it was lost. Naturally, it's a back-up hard drive, so anything important on it is also somewhere else. But that's not the point.
The point is that I feel lost.
This was supposed to be the little box where my photos from Paris and my journal entries from the university years are safe, even if (ok, probably when) my beloved laptop gives up on me. And then the back-up died first. That which was supposed to keep me safe, turned out to be weak.
When I was a little girl, my dad showed me a picture book about what happened to people who didn't back up their files. They were eaten by monsters.
This was probably not a children's story, but a brochure designed to sell back-up software. I still grew up to be something of a digital hoarder. I once saved a text message for three years, transferring it from phone to phone. My digital music collection is obsessively organized, even though I usually just use Spotify. When a friend dropped his laptop on the floor, I asked him: "You had back-up right?" He told me that was the worst possible thing to say, and I felt quilty about if for weeks.
Now this loss, mere months after losing my RSS archive Bloglines, has made me paranoid. Are our files never safe? Between the cloud, where I am at the mercy of companies located on the other side of the world, and local storage, where technology just randomly dies, should I just learn to live archiveless? It's not like I want a physical archive.
And what if my laptop chooses this week to break down for ever?
If I were suddenly without files, would I be ok?
All the decent Paris photos are on Facebook. My best writing is published or e-mailed to someone. Most of my music is available either on Spotify or on some torrent site. I would mourn some of my favorite photographs and a few specific journal entries and writing experiments. And when the sheer inconvenience and missed deadlines blew over, I would be fine.
When I looked through the journal entries just two days ago, I found old documents that I have deleted from their original place on my laptop. Forgotten details of events that made such an impact on me that I wrote short story-ish accounts of them. Texts I liked enough to cut and paste from other blogs. Collages of party photos. Digital memories.
I don't need them, but I'm glad I looked through them. And just like I want to be able to read my journals from grade school (those notebooks are in a cardboard box in my parents' attic), I want to be able to read today's unbloggable personal writing ten years from now. Call me a hoarder, but at least I mainly hoard words.
So developers who want to make something upscale and sophisticated: Don't make me an app. I want the digital file version of those super secret bank vaults where they store treasure in the movies. I want to be able to tell someone: guard these files for generations; my great-great-grandchildren should be able to look at these photos and read these words.
Posted by Julie at 9:35 PM | Comments (4) | TrackBack
December 8, 2010
Dagens blogg: NRKBeta
Det er 8. desember, og jeg har egentlig ikke så god tid i dag. Derfor tenkte jeg at jeg skulle raskt og enkelt anbefale en av Norges mest kjente og best leste blogger: NRKBeta.
Så begynte jeg imidlertid å lese NRKBeta. Og det som skjedde da kan best beskrives med ordene til en av bloggerne, nemlig Anders Hofseth, i innlegget Hvorfor jeg aldri ble venn med Samsung Galaxy Tab:
Etter at jeg har surret rundt på nett i årevis, går fortellerformen på TV for sakte for meg, jeg klarer ikke helt å falle til ro med enveiskommunikasjonen og tidsskjemaet mitt stemmer sjelden med TVs. Vegeteringsbehov dekker jeg istedet med nett, det gir meg mye av den samme opplevelsen, følelsen av flow.

Den ungarsk-amerikanske psykologen Mihály Csíkszentmihályi har forsket på hva som gir lykkefølelse og fant noe han kalte flow, følelsen av å være i ett med det man driver med – øyeblikk der man ikke merker at man har et selv og hvor forholdet til tid og sted blir utvisket.

(...)

Nettsurfing kan også gi flow. Jeg har ofte tatt meg i å være dypt inne i noe på nett – på et nivå hvor jeg ikke merker at det er 15°C i rommet, at klokken er alt for mye og at jeg skal være et sted om femten minutter. I noen av disse øyeblikkene har jeg nærmest en opplevelse av å være fysisk inne i det jeg leser.
Jeg gikk altså inn i en flow, og plutselig hadde jeg brukt opp tiden på å surfe gjennom blogginnlegg om diverse gadgets, nettsteder og annet teknologiprat.
Jeg er ikke spesielt opptatt av gadgets; i hvert fall ikke til girl geek å være. Det skyldes kanskje fenomenet mamma pleide å kalle "bakerens barn", eller i mitt tilfelle nerdens barn. Jeg har som sagt kjøpt 1 eneste datamaskin i mitt liv. Gadgets har bare dukket opp (nå sist var det en iphone, men det får bli en annen bloggpost).
Men tekster som denne underbygger min påstand om at Enhver som kan skrive godt, kan få lov til å fortelle meg hva som helst. Og at gode anmeldelser er interessante uavhengig av produktet de omtaler. Og derfor skal dere lese NRKBeta: fordi de går dypere i forbruker-IT enn lanseringsjournalistikken, uten å bikke over i utilgjengelig fagnerding.
Og fordi jeg synes det er interessant at en skikkelig blogg vokste ut av NRK. Det er noe å tenke på under den evinnelige debatten om skillet mellom ansatt og enkeltindivid i sosiale medier: Det kan skje mye bra om man setter merkelapper som "beta" og "sandkasse" på ting og så gir folk litt plass til å leke.
Blogg: NRKBeta
Twitter: @andorand og flere, se her
Utvalgt innlegg (mer rekker jeg ikke): Hvorfor Apple ikke er så viktig (ja, jeg vet jeg gjør det viktig ved å si at det ikke er viktig, men dette er et bra innlegg)
Posted by Julie at 5:31 PM | Comments (2) | TrackBack
December 7, 2010
Dagens blogger: Kristine Lowe/Löwe/Løwe
I dag, 7. desember, får dere flere blogger, som alle kan knyttes til én person. Kristine har en egen engelskspråklig blogg Kristine Lowe, driver fellesbloggen Netthoder (som Löwe), og blogger for VGNett under overskriften Digital (med byline Kristine Løwe). Felles for alle tre er at de handler om media og it.
Blogg: Digital
Twitter: @twournalist
Når VGNett (eller E24 via VGNett) legger ut en klikkhore om Facebook eller Apple, blogger Kristine om politikken og prinsippene som ligger bak disse nyhetene.
Utvalgte innlegg
Velkommen til Facebook-mail, farvel til privat e-post
Om nettets død
------------------------------------------------------------------------------------
Blogg: Netthoder
Twitter: @netthoder (men følg de enkelte bidragsyterne individuelt også)
Netthoder er bloggen til Norwegian Online News Association (NONA). Meld deg gjerne inn i denne organisasjonen, hvis du driver med nyheter på nett, som journalist, desker, redaktør, nyhetssjef, utvikler, selger osv. Men les bloggen uansett. Den er en snarvei til mye innsikt og inspirasjon innenfor nettjournalistikk.
Netthoder har innlegg fra flere bidragsytere som i seg selv er verdt å følge med på. Blant dem er Anders Brenna (@abrenna), Ida Aalen (@idaaa), Helge Øgrim (@hogrim) og Arne Krumsvik (@arnehk).
Utvalgte innlegg
Gavepakke til deg som vil diskutere iPad på et litt høyere nivå av Ida Aalen
En samling god nettjournalistikk til inspirasjon av Arne Krumsvik
Drap på Facebook - blant annet om hvor aktive kriminelle er på sosiale medier
------------------------------------------------------------------------------------
Blogg: Kristine Lowe
Twitter:  @kristinelowe
Kristines engelskspråklige blogg har vært lite oppdatert siden hun startet med de andre prosjektene. Det er likevel verdt det å både rote rundt i arkivet og sjekke etter nye innlegg. Kristine har journalistutdanning fra London, og hun klarer å sette mye av den norske mediedebatten inn i et større perspektiv.
Utvalgte innlegg
Wanted: Multimedia journalist who can sell ads (om den kanskje-ikke-så-tydelige grensen mellom redaksjonen og salgsavdelingen i moderne mediebedrifter)
Is your blog really a blog if it has photos of shoes? Aktuell igjen, siden vi nok en gang diskutere rosabloggere som om de var de eneste bloggerne.
Posted by Julie at 10:37 PM | TrackBack
November 23, 2010
Impulsive concentration
"(W)hen that kind of focus springs to life - when interest becomes visceral, when caring becomes palpable, when you're so focused on something that the rest of the world melts away - the learning that results tends to be rich and sticky and sweet. The kind that you carry with you throughout your life. The kind that becomes a part of you. The kind that turns, soon enough, into wisdom.

It's a kind of learning, though, that can't be forced - because it relies for its initial spark on something that is as ineffable as it is intense. Interest has a way of sneaking up on you: One day, you're a normal person, caring about normal things like sports and music and movies - and the next a Beatles song comes on the radio, and suddenly you're someone who cares not just about sports and music and movies, but also about the melodic range of the sitar. Even if you don't want, necessarily, to be somebody who cares about the melodic range of the sitar. Interests are often liberating; occasionally, they're embarrassing. Either way, you can't control them. They, in fact, control you."
Quote from Megan Garber in Attention vs. distraction - What that big New York Times story leaves out
And here's that big New York Times story: Growing up digital, wired for distraction I couldn't bring myself to read the whole thing, because I am so sick of being told that my ability to multi-task is a bad thing, and that I can't concentrate because I'm under 25. (I'm blogging this in between editing photos, updating E24, and keeping up with Twitter, and I think I'm doing ok).
Garber sums up the counter-argument perfectly here:
"(T)he digital era is bringing a new kind of empowerment not just to interest, but to aversion. The web is a space whose very abundance of information - and whose very informational infrastructure - trains our attention to follow our interests."
(That's why online headlines have to be straightforward.)
Related posts:
Posted by Julie at 2:24 PM | TrackBack
September 23, 2010
Journalist i sosiale medier
Bloggposten er en slags skriftlig versjon av et foredrag jeg holdt for avisen Østlendingen, 18. september 2010.
Da jeg gikk på videregående og bodde med mine foreldre, leste jeg papiravisen (Aftenposten) mens jeg spiste frokost. Nå har jeg en ny rutine som jeg gjentar hver gang jeg vil oppdatere meg på verden. I prioritert rekkefølge:
Resten av de jeg følger på Twitter
Facebook
Forsidene på noen nettaviser
Papiravisene som tilfeldigvis er i nærheten, hvis jeg gidder
(I tillegg sjekker jeg selvfølgelig E24 hele tiden, men det er av litt andre grunner.)
Jeg er egentlig lei av å snakke om sosiale medier. Utenom papirdagboken du låser i en skuff og aldri viser noen, handler de fleste medier om sosial kommunikasjon. Å diskutere det blir for nettjournalister omtrent som når papirjournalister diskuterer papirkvalitet.
Facebook, Twitter og blogging er rett og slett verktøy journalister bør bruke, ikke bare diskutere som om det var et fagfelt.
Den diskusjonen jeg er mest lei av, er den om at sosiale medier er spesielt skummelt for journalister.
Det er klart det er en viss risiko forbundet med dette. Hvis man er for privat på nettet, kan man irritere venner og lesere. Og journalister løper en reell risiko for å miste jobben.
Det var det som skjedde med CNN-korrespondenten Octavia Nasr noen dager etter at hun skrev dette på Twitter: "Trist å høre om bortgangen til Sayyed Mohammad Hussein Fadlallah. En av Hizbollahs kjemper jeg har stor respekt for." Etter 20 år i CNN, var likevel en sympatierklæring - etter mitt syn en relativt vag og harmløs sympatierklæring - for en politisk aktør oppsigelsesgrunn.
Her i Norge måtte informasjonssjefen i DnB Nor, Ole Irgens, slette bloggen sin etter at han skrev en bloggpost med tittelen Jævla bønder. Selv om bloggen hans ikke var direkte knyttet til DnB Nor, selv om han hevdet at han skrev posten som privatperson, var en slik uttalelse uakseptabel for banken.
Mediefolk skal nemlig være nøytrale. Noen sier at journalister ikke har venner, de har kontakter. Når denne "objektivitetskulturen" møter "delekulturen" på nett, blir det vanskelig. Flere journalister har vært skeptiske til at jeg har en blogg og en twitter-konto, og at jeg har skrevet i førsteperson i studentmedier, i tillegg til at jeg skriver nøytrale nyhetssaker i E24.
Hvorfor gjør jeg det likevel? Fordi jeg var blogger før jeg var journalist. Fordi jeg ville vært en dårligere journalist om jeg ikke hadde vært blogger først. Og fordi stadig flere leser som jeg gjør, fremfor å bare stole på at redaksjoner klarer å velge ut hva som er interessant for den enkelte leser.
Eller for å sitere @hermida (det vil si journalisten Alfred Hermida):
"Platforms like Twitter can turn our social network into our editor. Once this role was the preserve of a newspaper editor, who decided what the public should read that morning. Now people can turn to their social networks to find out, 'what do my friends or people I respect think I should read about this morning.'
Det er stadig flere av leserne og av de potensielle kildene, som bruker nettopp disse verktøyene. De er på Facebook, de er på Twitter, de leser blogger, og de bruker Google eller eventuelt andre søkemotorer som startsted når de lurer på noe.
For eksempel hvis du har bedt om å få intervjue dem, og de lurer på hvem du er. Eller hvis du har skrevet en artikkel som de likte, eller ikke likte, og de lurer på hvem du er. Og derfor er det ikke lenger noe skam forbundet med å google seg selv, eller ved å ha en identitet på internett.
Bloggen og Twitter er for meg et utvidet visittkort. Hadde jeg hatt et visittkort, ville jeg først og fremst skrevet www.accordingtojulie.com og @julierandersen på det. Bloggen har vært min i fem år, uavhengig av hvor jeg studerer, jobber eller bor.
Jeg har blogget, under fullt navn, siden juni 2005. Da var jeg atten år, og det var like før jeg begynte på Universitetet i Oslo. Jeg blogget mens jeg tok en bachelorgrad i Internasjonale Studier, før jeg begynte på journalistikk på Høgskolen i Oslo. Jeg fikk tildelt praksisplass hos Teknisk Ukeblad, og nyhetssjefen der så på bloggen min og fortalte meg at den var mer enn god nok til å gi meg sommerjobb i Teknisk Ukeblad før jeg hadde vært i praksis.
Det er ikke den eneste gangen bloggen har ført til journalistikk. Noen løse tanker om en kronikk jeg hadde lest førte først til en god diskusjon, deretter en artikkel i studentmagasinet argument, og etter hvert en jobb som samfunnsredaktør i det magasinet. Etter bloggposten om journalistikkens fremtid ble jeg intervjuet i Journalisten og forelest om på Høgskolen i Oslo. Idéen om å forske på frontredigering kom som resultat av en bloggpost, og nå har jeg fått jobb som nettopp frontredigerer.
Men det viktigste bloggen har gitt meg er ren skrivetrening. Jeg har blitt vant til å gjøre research på nettet, linke til originalkilden og finne en egen vinkling i løpende debatter. Før jeg fikk min første journalistjobb, selv før jeg fikk en artikkel på trykk i studentavisen, hadde jeg allerede flere års erfaring med å skrive for lesere jeg ikke kjenner personlig. Det er klart det har vært nyttig.
Jeg har blitt en bedre journalist av å være blogger
Som journalist som forholder seg til bloggosfæren, er bloggen min spesielt nyttig. Håper jeg. Jeg er ikke bare en anonym representant for Mainstream Media; jeg er også en person. Kilden og jeg kan ødelegge hverandres nettrykte; det er ikke bare jeg som kan henge dem ut offentlig.
Kilder kan like gjerne treffe meg via en DM på Twitter, fremfor via en pressemelding som sendes til redaksjonene.
Det er selvfølgelig ikke det eneste jeg bruker Twitter til:
Jeg oppdaterer meg på verden, som forklart over.
Jeg søker opp diskusjoner og kan dermed få idéer til nye elementer i saker.
Jeg følger andre journalister og mediefolk og har dermed et faglig diskusjonsforum uavhengig av mediebedrift.
Jeg følger ekspertene i feltene jeg skriver om.
Jeg linker til egne bloggposter og diverse interessant fra e24.no
Og til de som sier at det er problematisk at jeg finnes på nettet uavhengig av E24, vil jeg si følgende: Den 100 prosent objektive journalisten, uten venner og bindinger, er en myte. Hvorfor?
Vi har hatt partipresse frem til 70-tallet. Journalisten og avisen uten politiske synspunkter er, i hvert fall her i Norge, en ganske ny oppfinnelse. Ny nok til at journalistlærerne mine husker en tid da hva man stemte var viktig for hvilken redaksjon man kunne skrive for.
Med en gang du velger vinkling i en sak, så er den ikke lenger hundre prosent nøytral. Vinklingen sier noe om hvem du anser leseren for å være, hva slags profil redaksjonen som helhet vil ha, men også hvem du er som journalist. Jeg kunne sitert Max Weber her og sagt at dette stemmer for mange former for vitenskap.
Skriver du ofte om samme felt, utvikler du ganske fort meninger om stoffet. Og det er ikke nødvendigvis politiske meninger, eller for-mot-meninger, men rett og slett egne tanker om hvordan utviklingen i saksområdet kan gå i fremtiden eller hvilke elementer av sakskomplekset som er mer eller mindre vesentlige.
Kort sagt: Selv om vi etterstreber nøytralitet i journalistikken, så er ikke journalisten som person helt objektiv. Journalistikken skal være nøytral, ikke journalisten.
Når jeg uttaler meg som meg selv på nettet, tar jeg ikke offentlig standpunkt. Jeg tenker høyt.
Jeg blogger/tvitrer ikke pressemeldinger om "Julies offisielle uforanderlige standpunkter." Jeg legger ut:
Anbefalinger - tekster jeg har lest, musikk jeg har hørt, arrangementer jeg skal på.
Kladder - diskusjoner med meg selv om ulike ting jeg tenker på, alt fra "Er det riktig av meg å gå med pels?" til "Hva ville jeg gjort med de siste seks månedene i mitt liv?"
Tekster jeg uansett har skrevet, enten det er skoleoppgaver eller tekster i andre medier som jeg har fått lov til å cross-poste.
Kriteriet for å linke til noen andres sterke meninger er "Er meningene interessante?" ikke "Er jeg enig?" Jeg var for eksempel kjempefornøyd da en leser ikke klarte å gjette hvem jeg ville stemt på i det amerikanske valget, selv om jeg blogget om det. (Jeg var med andre ord mer objektiv enn de fleste norske journalister om akkurat den saken.)
Min hovedregel for hva som kan publiseres har egentlig ikke endret seg siden starten:
This blog will show an everchanging snapshot of part of my mind - the part I don't mind publishing on the internet where anyone can read it.
Jeg synes generelt vi er for opptatt av å plassere oss selv og hverandre i båser. Vi vil så ofte at kildene skal snakke på vegne av interesser, og så blir vi redde for at vi må klassifiseres på samme måte hvis vi uttrykker oss utenfor redaksjonen. Da jeg var på bloggdebatt i regi av Fritt Ord i mars 2006, var det en journalist i Klassekampen som sa at det er så skummelt med disse bloggerne, for man vet jo ikke hva de står for. Og da svarte jeg: Vel, man kan jo prøve å lese hva de skriver.
Det er en fantastisk ting med blogger og Twitter. Disse mediene gir stemme til de som ikke representerer noen forutbestemte interesser. Som uttaler seg fordi de har tanker om noe, ikke fordi de leder en interesseorganisasjon eller et politisk parti.
Det er noen ting jeg er forsiktig med å blogge om, spesielt nå:
Konkret "for" eller "mot" i saker som det er noen mulighet for at jeg skal måtte skrive om
Personangrep
Klar flagging av partipolitisk tilhørighet
Interne forhold i E24, VG eller Schibsted
Personer som ikke har lagt seg selv ut på internett
Dette er for meg uproblematisk. Det går vel så mye på folkeskikk og hvem jeg vil være som blogger og som person, som det går på journalistrollen.
Jeg har sittet ved siden av journalister på café, hørt dem høylytt diskutere noe som skulle vært off-the-record og tenkt: "Dette er langt mer uprofesjonelt enn at jeg har en blogg." Reglene for hvordan du oppfører deg offentlig, bør være basert på sunn fornuft, enten du er på café eller på Twitter.
Real life is on the record, and the internet is just like real life.
Posted by Julie at 4:30 PM | TrackBack
July 29, 2010
iPensum - Jeg skriver om Apple, for å gi bloggen flere lesere
(Når du har fullført testen over og lest bloggposten under, les dette. Det er en samling sitater fra folk som tenker virkelig smarte ting om iPad.)
Jeg hadde en liten diskusjon med @decibyte, @astronewth og @villahoien i dag om hvorfor journalister skriver så uendelig mye om Apple. Samtidig diskuterte resten av E24-redaksjonen seg i mellom om vi kanskje burde publisere litt færre iSaker.
Vi liker å si at vi skriver "tech news", men det er "brand news", for å stjele et poeng fra @villahoien. Brand news er forsåvidt et helt greit stoffområde for næringslivsjournalister, men at jeg kan sitere aksjekursen til Apple fra Reuters betyr ikke at jeg vet hvordan en iPhone egentlig virker.
De virkelig teknologiinteresserte menneskene jeg kjenner er uansett ikke spesielt glade i Apple-produkter. Sier jeg nettopp det til en Mac-brukende venn, blir de sinte på meg. Jeg har opplevd at noen ble lei seg og gikk sin vei, med kommentaren "Jeg sier ikke stygge ting om din datamaskin."
Og der er vi ved sakens kjerne: Vi skriver om Apple, fordi dere bryr dere så veldig. Fordi "alle" klikker på en sak hvis det er Apple, iPhone eller iPad i tittelen. Fordi hvis jeg blogger om Apple, får jeg flere følgere på Twitter.
De fire mest-leste sakene på E24 i kveld handler om iPhone 4.
Illustrasjon: Handholio CC-BY-SA, via Netthoder, bloggen til NONA (Norwegian Online News Organization)
Les også
Posted by Julie at 11:37 PM | Comments (7) | TrackBack
July 25, 2010
I am a constant gamer
I just started subscribing to the Monday Note, a weekly e-mail newsletter about media and tech business. The first note in my inbox was about me. Or at least people like me, the "digital natives" between 18 and 24 who have more or less grown up online.
A French survey presents our habits. One of the key findings is that we are "constant gamers", modeling our real-life interactions on computer games. We don't trust brands, and see them as the enemy to defeat as we use all available tools to find the best deals online. Some brands, including Apple of course, "have gained access to a unique status of blind trustfulness", but overall we have little respect for authority.
"It mainly results from a generation gap in which management is still in the hands of people who don't have a clue on how Digital Natives think", says Edouard Le Marechal, who engineered the survey.
If he means "management is still in the hands of people who rely on surveys to understand how people in their early twenties work", then he is certainly correct.
Here are a few more interesting descriptions of my age group, quoted from Frédéric Filloux, who writes The Monday Note:
The Digital Native has a problem with authority, but he respects competence.
Even if they harbor little hope of doing better than their parents, they don't see themselves as unhappy.
The Digital Native does not rely on a single group but on several, each with a different degree of trust. The three concentric circles are : close friends and family as the core, a group of 20 to 30 pals whom they trust, and the "Facebook friends" of 200 or so, which acts as an echo chamber.
The group (...) will organize the importance, the hierarchy of news elements, it will set the news cycle's pace.
Wikipedia: because it is crowd-powered and carries an image of neutrality, it is embraced as trustworthy.
This isn't a survey I would focus on too much - it's just about a hundred or so French kids - but I can identify with the findings I've quoted above. I know many of my friends don't trust "the media", by which they mean major newspapers, but look to Facebook and Wikipedia for information and news about what's really going on. I would switch "Facebook friends of 200 or so" to "Twitter feeds of 600 or so" as my third level group, but I appreciate that someone is finally acknowledging that (duh!) we do know the difference between best friends and friends on Facebook.
Image via nongenderous
Posted by Julie at 9:47 PM | Comments (4) | TrackBack
June 29, 2010
7 "uskrevne regler" for nettavisers forsider
Odd as it may sound, the way to grab people's attention online might be to simply level with them. – Barbara Kiviat, journalist i TIME Magazine
Teorier journalister forholder seg til, er ofte resultatet av mange menneskers samlede erfaring med praktisk journalistikk over flere år. Sigurd Allern skriver i Nyhetsverdier – om markedsorientering og journalistikk i ti norske aviser at kriteriene for gode nyheter og riktige måter å skrive om dem «sitter i veggene» i redaksjonen. Det finnes uskrevne regler for hvordan journalister skal skrive, og mange av de uskrevne reglene er etter hvert blitt skrevet, for eksempel i journaliststudenters pensumbøker.
De fleste av reglene er imidlertid basert på papirjournalistikk. Ifølge Chris Patersons innledning til boken Making Online News – The ethnography of media production har undervisning i nettjournalistikk vært en utfordring verden over, fordi journaliststudenters lærere mangler erfaring fra denne relativt nye måten å drive journalistikk på. Nettredaktører har også uttrykt bekymring for at de «utforsker internett uten kart.»
Høsten og vinteren 2009 utførte jeg derfor «feltarbeid og semi-strukturerte kvalitative intervjuer» i tre norske nettavisredaksjoner. Det vil si at jeg besøkte Aftenposten.no, Dagsavisen.no og VGNett og snakket med journalister og deskere om hvordan de skriver forsidetitler og forsideingresser og hvordan de velger forsidebilder. Resultatet var en fordypningsoppgave i journalistikk, en kronikk i argument og en langt bedre forståelse av hvordan man skal være nettjournalist.
Nedenfor kan du lese mer om hva jeg fant ut.
7 ting jeg har lært om nettavisers forsider
Flere av journalistene advarte meg i starten av intervjuene om at valgene deres «satt i fingrene», og at de ikke nødvendigvis kunne svare på hvorfor det var slik. Etter hvert som jeg stilte konkrete spørsmål om saker, kunne de likevel begrunne sine valg i de fleste tilfeller. Jeg minnet dem også på at hvis svaret på et «Hvorfor?» var «Det var det første jeg kom på, og det er viktig å publisere fort,» eller «Jeg vet ikke; det bare så riktig ut,» var det også interessant. Det viktigste var tross alt at jeg fikk vite hva de tenkte, ikke at det de tenkte var riktig eller etter mine forventninger.
Det finnes imidlertid uskrevne regler for nettavisers innganger. Her er syv av dem.
1. Nyheten må ligge i tittelen
- I en stor papirsak har man to A3-sider å leke med. Bildetekst, mellomtittel og uthevet sitat kan også sette saken. Vi har tittel, ingress og bilde. Vi må velge ett element blant alt det papir viser. Nyheten må ligge i tittelen, sier frontsjef Morten Andersen hos Aftenposten.
Nyheten må ligge i titttelen, fordi nettjournalister har begrensede virkemidler for å selge individuelle saker til leserne.
Per Øyvind Fange i VG Nett sier han endrer tittelen hvis han ikke selv forstår hva saken handler om når han ser den. En vanlig begrunnelse for inngangsendringene jeg observerte, var at den opprinnelige inngangen var «uklar» eller «forvirrende.»
Journalistene sier at nettinnganger, sammenlignet med papirinnganger, må være mer spisset, og i større grad vise hva saken handler om.
2. Leseren skal tenke hvorfor? ikke bare hæ?
Journalistene sier språket i tittelen skal være enkelt og klart. Kreative, intelligente titler på papir blir ofte uforståelige på en nettfront. Ordspill og doble betydninger virker ikke, sier journalistene.
Da jeg observerte journalistene i arbeid, så jeg at de ofte la inn mer informasjon i forsidetittelen enn på innsiden. Hvis saken kom fra papir eller et nyhetsbyrå, satte journalistene gjerne inn ekstra ord før tittelen ble lagt på forsiden. Ordene skulle fortelle leseren hvilket tema saken hadde eller oppklare mulige misforståelser. For eksempel ble Kina løfter ambisjonene til Kina løfter klima-ambisjonene, og  –Feilgrep reddet bin Laden ble til –Bin Laden reddet av feilgrep fra Bush og Co.
Inngangen skal fortelle hva nyheten er, men ikke hele nyheten. En inngang med for mye informasjon er det ingen grunn til å klikke på. Nyhetsleder Heidi Ertzeid i Aftenposten forklarer det slik:
- Tittelen må få leseren til å stille seg et spørsmål om «Hvorfor?». Så er det viktig å ikke svare på det spørsmålet i ingressen.
3. For mye er bedre enn for lite
Journalistene liker imidlertid ikke å si for lite:
- Vi skal ikke holde tilbake informasjon. Luretitler og lureingresser av typen klikk her for å se hvilken er barnslig, sier Aftenposten-frontsjef Morten Andersen.
Journalister i Aftenposten og Dagsavisen sier at VG nesten erter leseren med sine kryptiske frontinnganger. Journalister i VG viser igjen til seher.no som eksempel på virkelig kryptiske ingresser.
Hvis inngangen sier for mye om nyhetspoenget, oppfordres leseren
til forsidescanning fremfor klikk.
- Forsidescannernes betydning bør ikke undervurderes, presiserer VG Netts Per Øyvind Fange.
Han forklarer at følelsen av å være oppdatert er svært subjektiv, men at VG Netts forside skal prøve å fremkalle den følelsen hos leserne. Da må forsiden i seg selv være informativ. VG Netts journalister sier de vil at forsiden skal svare leserne på spørsmålet «Har det skjedd noe?».
Da jeg observerte VG Nett, skrev ikke journalistene noen innganger som jeg vil kalle «lureinnganger». Det gjorde heller ikke journalister i de andre redaksjonene.
4. Et forsidebilde kan (nesten) alltid beskæres tettere
Journalistene jeg snakket med for denne oppgaven, var alle enige om én hovedregel for frontbilder: Du kan nesten ikke beskjære et bilde for mye.
- På papir er kule bilder de bildene du kan se lenge på og oppdage nye detaljer i. På nett er det tett beskjæring som gjelder, sier Aftenposten-journalist Nicolai Heyerdahl.
Alle journalistene sier at bilder på forsiden skal være tett beskåret. De bør også være enkle, slik at leseren raskt gjenkjenner motivet, også på mindre skjermer.
Flere av journalistene oppgir at valg av bilder også er et spørsmål om ressurser og tid, og at det ligger ikke-utforsket potensiale i bildevalg på nett.
5. Tittel = bildetekst. Bilde = stikktittel
- På nett virker forsideinngangen nesten som en bildetekst, sier Aftenpostens journalist Nicolai Heyerdahl.
Jeg observerte at journalistene valgte titler på forsiden som var helt avhengig av bildet: På denne veien døde elleve på tre år koblet til et kart med en rød inntegnet strek. Slik skal ferske sjåfører stemples med et bilde av en grønn L. Her prøver breiflabben å glefse til seg anda med et bilde av nøyaktig det tittelen sier. Lars Christian Tranøy, frontsjef i VG Nett, kaller her, se og slik «pekefingerord». Han sier at ordene oppfordrer til klikk fordi de «peker» på bildet og saken, men at de
ikke må brukes for ofte på forsiden. Da kan helhetsinntrykket bli masete.
En annen begrunnelse for bildevalg var at bildet fortalte leseren om det overordnede temaet for nyheten, på samme måte som en tydelig markert seksjon eller en stikktittel.
I observasjon så jeg at den vanligste måten å bruke bilder på front, var å finne et tett og enkelt portrettbilde av sakens hovedperson. Det kunne godt beskjæres så tett at halve pannen endte utenfor rammen. Journalistene sier at bilder av ansikter er mer spennende for leseren, en konklusjon som er helt i tråd med forskning om hvordan lesere leser.
6. - Sitater funker, sier nettjournalister
Å koble et tett portrett med et sitat kan gi en følelsesmessig sterk effekt. Dag Høie, fra Dagsavisens nettredaksjon, kalte det «snakkeboble»: Leserne får et inntrykk av at personen ser rett på dem og snakker rett til dem.
Øystein Helmikstøl, også i Dagsavisen, sier han prøver å unngå å bruke sitater i for mange av inngangene. Når jeg spør hvorfor, sier han at han lærte det på journalistutdanningen. Flere av journalistene har fått lignende beskjeder fra tidligere veiledere. Ifølge pensum for journaliststudenter bør ikke ingresser begynne med direkte sitater. Da mister leseren tråden i forklaringen av hvem som sa det.
Likevel er nettavisenes forsider dekket av sitater. Journalistene sier det er fordi leseren kommer tett på den som snakker, enten det er en allment kjent person, eller et anonymt vitne med en dramatisk historie. Ifølge informantene selv, velger de å bruke sitater stadig oftere. Der arbeidet med inngangen ikke begynner med bildet, begynner det ofte med å finne et godt sitat. Det fungerer best hvis sitatet gir uttrykk for en sterk mening, og aller best hvis saken i seg selv handler om at noen har sagt noe. Når sitatet er nyheten, er sitattittel bare et eksempel på å legge nyheten i tittelen.
7. Enkelhet og ærlighet varer lengst virker raskest
Det er vanlig å gå ut fra at lesere har dårligere tid på nettet enn på papir. Nettleserne er blitt kalt «en svært utålmodig menneskeflokk», av Veslemøy Kjendsli, pensumforfatter for journaliststudenter. Vi bruker kort tid på å filtrere ut
informasjon. Med effektive lesere, vil jeg konkludere med at den viktigste regelen for nettinnganger er at de er tydelige og direkte.
VGs nye høyreløp var ikke øyeblikkelig gjenkjennelig som redaksjonelt VG Nett-stoff, og derfor trodde lesere at hele løpet var annonser. Fenomenet banner-blindness – ignorering av det vi tror er annonser – ble dokumentert på 1990-tallet. Journalistene jeg snakket med, arbeider som om det samme fenomenet eksisterer for forvirrende nyhetssaker: Leserne filtrerer vekk en inngang hvis de ikke øyeblikkelig forstår hvorfor den er interessant for dem selv.
Jeg vil oppsummere det journalistene fortalte meg om gode innganger slik: Teksten i inngangen må være tydelig, så det ikke oppstår misforståelser. Det viktigste kravet til et frontbilde er at leseren gjenkjenner bildets motiv med en gang. En inngang som sier for mye, er bedre enn en som sier for lite. Innganger må ikke forvirre eller forlede, men rett og slette formidle hva saken egentlig handler om.
Innlegget er basert på min bacheloroppgave i journalistikk, som du kan lese her.
Posted by Julie at 10:43 PM | TrackBack
June 28, 2010
Slik lager du nettavisforsider
Høsten og vinteren 2009 utførte jeg "feltarbeid og semi-strukturerte kvalitative intervjuer" i tre norske nettavisredaksjoner. Det vil si at jeg besøkte Aftenposten.no, Dagsavisen.no og VGNett og snakket med journalister og deskere om hvordan de lager innganger (altså hvordan de skriver forsidetitler og forsideingresser og hvordan de velger forsidebilder). Resultatet var en fordypningsoppgave i journalistikk, en kronikk i argument og en langt bedre forståelse av hvordan man skal være nettjournalist.
Jeg legger nå selve oppgaven som en pdf her:
Hvorfor vi klikker - Bak forsidene i tre norske nettaviser
Jeg vil oppsummere det journalistene fortalte meg om gode innganger slik: Teksten i inngangen må være tydelig, så det ikke oppstår misforståelser. Det viktigste kravet til et frontbilde er at leseren gjenkjenner bildets motiv med en gang. En inngang som sier for mye, er bedre enn en som sier for lite. Innganger må ikke forvirre eller forlede, men rett og slette formidle hva saken egentlig handler om.
Les en slags forkortet versjon av opgaven her.
Andreas Carlsen i klikk.no har forresten holdt et foredrag med sine 10 beste titteltips.
Les også:
Posted by Julie at 10:31 PM | TrackBack
June 13, 2010
Facebook apology
"It must have come as a shock to you that when you handed over that personal information to us, we then had that personal information." So says "Zuckerburg" in a joke video made to look like an official apology from Facebook for "letting you use this incredibly entertaining, incredibly useful site for free".
Video below.
Posted by Julie at 5:06 PM | TrackBack
June 12, 2010
Technology according to Julie
The five year anniversary of According to Julie is a great excuse to recycle old posts when I don't have time to write new ones show you some old favorites from the past half decade. Today, some posts about technology. Some are favorites because they're just good, others because they show how much has changed since I started blogging, both in terms of tech and my own writing:
In English:
På norsk:
Posted by Julie at 3:30 PM | TrackBack
June 11, 2010
Eplesensur
"Apple leverer den fysiske rammen for opplevelsen. De er de gamle medienes produsenter av papir, vinyl, platespillere og tv-apparater i ett. Men de kontrollerer også det eneste distribusjonspunktet for innhold; de er Posten, Narvesen, bokhandlerne, Platekompaniet og hele dagligvarehandelen samlet i én nettadresse."
Det skriver Sven Egil Omdal (@svelle) i en svært velskrevet tekst om Apples sensurering av apps-innhold på Ipod og Ipad. Les den.
I NRKBeta skriver Marius Arnesen: "Tanken om at en litt sær teknologiguru i San Fransisco skal bestemme hvilket innhold jeg har tilgang til i min hverdag, liker jeg svært dårlig." Så sammenligner han Apple med Nord-Korea. Eirik Newth etterlyser protest fra redaktører når Apple tar over retten til å bestemme hva som publiseres i norske medier. Per Kristian Bjørkeng beskriver konkurransen mellom Google og Apple som kampen mellom fritt/rotete og pent/sensurert.
Uansett hvilket merke du har på datamaskinen/telefonen/musikkspilleren, anbefaler jeg deg å sette deg inn i debatten.
Illustrasjon: Martin Krzywinski CreativeCommons
Posted by Julie at 9:50 AM | TrackBack
June 6, 2010
Facebook - Should I worry?
As a journalist, should I be particularly worried about Facebook?
So far, I've been pretty relaxed about Facebook. I still stand by what I wrote in May 2007 (Facebook does not change our relationships or social networks; it just makes them visible to others and to ourselves) and what I wrote in September 2007 (if you don't want the world to know about all the stupid stuff you do, just don't do stupid stuff). I still say that Twitter and blogging have changed my lifestyle much more than Facebook.
Even so, I've been following at least some of the seemingly endless Facebook debates for the past few years, and lately, I've been less relaxed.
Facebook has been constantly changing their rules for who sees what on your profile since they started. Today, you can still maintain some degree of control, but given Facebook's track record, we can't really assume that will last.
This is probably not good for people in general, but for me personally, it's not a problem. Again, I'm not worried about people discovering that (gasp!) I drink alcohol or (shock!) attend costume parties or (eek!) have bad hair days. Basically my rule is that no matter how many layers of password protection and "friends only" I can supposedly hide behind, I'm never going to publish anything online that my parents and my boss shouldn't see. And if I ever reach that uncomfortable level of celebrity status where strangers really do care about my bad hair days, I'll have much bigger problems than Facebook.
Copyright is a whole other story. I would like to make a living out of writing. And while I'm nowhere near being a great photographer, selling pictures is often part of selling journalism. Am I crazy to be uploading my own photographs to a site that clearly tells me that anything I give them becomes their property?
I feel horribly pretentious writing this, so let me just clearify: I don't truly believe that snapshots of my friends making Moose antlers with their hands behind their heads will someday be worth any amount of money. I highly doubt that any of the photos I currently have up on Facebook can be considered works of art or good photojournalism.
No wait, actually, some of them are decent. Not fantastic, but definitely publishable. So when I read this week that in Norway, journalists can publish other peoples' Facebook photos to illustrate news stories without asking, I was not happy.
Am I crazy to worry that this could be a slippery slope? Am I going against all my information-wants-to-be-free ideals? If so, is that just part of graduating college and turning into a conservative grown-up?
Or am I just being sensible? I'm not currently using Flickr, but if I were, it would be under an attribution/non-commercial license. I don't need to make money from my work, but I don't want other people to make money from my work without at least giving me some credit. That's why I stopped automatically publishing all my blog posts to Facebook - I want some degree of control, not over who sees what, but who legally owns what. After all, I have no idea what Facebook might do next. On this blog on the other hand, if the privacy policy changes, I will let myself know.
Posted by Julie at 11:46 PM | Comments (2) | TrackBack
May 28, 2010
No comments for Stephen Fry
Stephen Fry explains why he recently closed comments on his blog:
"I don't know about you, but my eyes are already trained only to read the top half of a web page these days. Rather as a Victorian would not look below the waist, I do not let my eyes have even a second's contact with the revolting Have Your Say or Comments section of a BBC site, a YouTube page or any blog or tech forum. The lower half of web pages is very like the lower half of the body — full of all kinds of noxious evil smelling poison. I suppose it has to be expelled somewhere, but you will forgive me for not wanting to be close by when it happens. It is a pity, a real pity, that the furious few pollute the atmosphere and obstruct the pipelines that might otherwise allow the reciprocal possibilities of the world of User Generated Content that Web 2.0 promised all those years ago. Lord knows I don't want the Comment pages on my site to be filled with nothing but sycophantic agreement and loving worship. The truth is I would like them to be open, honest and free. There are thousands of people with valid and interesting points of disagreement with me on any number of subjects, with objections to Apple, their corporate style, their approach to hardware, firmware and software and their whole philosophy , but they are drowned out by the fundies and the freaks. One hurtful, mean-spirited, vicious or intemperate comment ruins everything. Absolutely everything. You cannot say to someone about to take a bath, 'it's only a small turd in there, the rest of the water is crystal clear' — one turd spoils the whole bath. So I would rather have no comment at all. Call me weak, call me pusillanimous, call me craven, call me anything, only don't do it here."
Anything Fry writes is an interesting read, and this blog post, about Apple, was no exception. I laughed at the paragraph and wanted to quote it. Copy. Paste.
Then I got a little worried.
Twitterer and self-proclaimed geek Fry is claiming that one stupid blog comment is enough to ruin "absolutely everything". I think internet-based debate and commentary gets enough of a bad rep from technophobes and those people who don't read blogs, without ammunition from Fry. He is blogging and tweeting for 1.5 million followers. He knows that Web 2.0 is far from ruined, even if he personally can't be bothered to moderate right now.
Posted by Julie at 10:36 AM | Comments (1) | TrackBack
January 28, 2010
Eplesett! Reaksjoner på iTingen
Da jeg først leste at den nyeste iGreia var en "iPad", trodde jeg at en av mine nye kollegaer i E24 hadde funnet på ordet utelukkende til forsidetittelbruk. Det måtte være et ordspill basert på et sitat tatt ut av sammenheng. For de kunne vel ikke seriøst ha kalt produktet iBind? Jo, det gjorde de visst.
Hadde jeg vært på jobb i dag, ville jeg sikkert skrevet om dette på en seriøs måte. I stedet har jeg sittet hjemme og ledd av at absolutt alle jeg følger på Twitter latterliggjør iDingsen (iBomsen?)
Silicon Angle har samlet førsteinntrykkssitater. Gizmodo gir oss 8 grunner til å ikke juble for iSaken. Geek Girls Guide lurer på hvorfor ingen jenter hindret det tåpelige navnet - som viser seg å være funnet på av MadTV. Bare noen timer etter lanseringen har Jezebel samlet internetts beste vitser om iPad.
På norsk kan vi bruke "padde" fremfor "pad". Det gir (litt) bedre assosiasjoner, men det var vel fortsatt ikke det Steve Jobs ønsket.
Ifølge geniale Stuff Journalists Like liker jeg å skrive om Apple. Men selv om dette overhodet ikke er en ny eller original ting å si, så er dagen i dag en fin anledning til å si det: Jeg er så lei.
Jeg er lei av iMennesker som sier "Kan jeg koble mac-en min til internett her?" Det irriterer meg mer enn jeg liker å innrømme når jeg selv sier "iPod" om mp3-spilleren jeg bruker (som jeg faktisk arvet, merkelig nok). For jeg sier kameraet, kaffemaskinen og mobiltelefonen. Ikke Nikonen, Isomacen og Sony Ericssonen.
Jeg er lei av at folk ser på "Apple vs. Microsoft" som en vesentlig debatt. Jeg har fått høre "Dere passer så bra sammen. Dere er jo hundemennesker og Windows-mennesker begge to!" Og jeg har fått høre "Hvorfor har ikke du iPhone? Du er en sånn person som har iPhone!" Hva slags freak er jeg som passer inn i begge kategoriene?
Jeg har ikke iPhone fordi jeg ikke har iCash. For å sitere Eirik Newth, "Epleskatten blir for drøy". (Og jeg kan være teknologijournalist uten å eie Apple-produkter, siden jeg kan være økonomijournalist uten å eie penger.)
Det går an å skrive alvorlig (The "Apple Advantage" is class signalling and always has been) eller morsomt (Apple innfrir: Ny duppeditt like jævla dyr som forventet) om det, men konklusjonen er den samme. Det er snakk om statussymboler og markering av identitet. Og det er helt greit det, men det er latterlig når mennesker som hevder at de ikke bryr seg om mote, må ha det nyeste fra Apple fordi de er så teknologi-interesserte. De virkelig teknologi-interesserte menneskene jeg kjenner, har ikke mac.
Én ting har likevel Apple gitt oss. Jeg synes eplesette er et mye finere alternativ til angre enn kontrollsette.
Posted by Julie at 12:54 AM | Comments (4) | TrackBack
January 2, 2010
2009 according to Julie
Warning: This is a completely subjective memoir of the year that was. It's written off the top of my head. My head, so it's going to be self-centered.
First the soundtrack:
Not necessarily the best songs of the year, but the ones that will remind me of 2009 for years to come. There are plenty of older songs that fit that description too, but these songs were released 2009 or late 2008.
Then my life:
2009 was the first year I was a full-time journalist. That is, I went to journalism school and survived on various part-time jobs as a journalist and editor. I was no longer a receptionist, tour guide or pointe shoe salesgirl. I was a journalist. That's probably a milestone.
If I had been told a year ago that 2009 would lead me to court rooms, a strip club, a pscychologist's office, the make-up and rehearsal rooms of the Norwegian Opera House and more concerts than I've attended during the rest of my life combined, I would not have believed it. While 2009 was happening, I kept thinking "2008 was so much more interesting," but looking back over the past 12 months, a lot happened. Nothing as big as moving to Paris and back again or drinking coke in the Cambodian jungle, but a lot of smaller dramas.
2009 was a year of extremes. I stayed up all night and slept all day, and then I got a job that started at 6 AM. I worked constantly and then spent a month doing nearly nothing. I forgot to eat some days and wanted to do nothing but cook on other days. I have been very sad and very happy this year. I have been very efficient and very lazy. I have been very stressed and very relaxed. I have felt invisible and I have been recognized by strangers. In a way, 2008 was the year things happened, and 2009 was the year when the consequences caught up with me, good and bad. And I finish this year feeling better about everything. I don't think I have been all around happier at the end of a year for as long as I can remember.
Current events:
In the world as in my own life, 2009 was very much about dealing with the consequences of 2008: The financial crisis continued, the same talk of climate change was repeated in Copenhagen, and Obama became president and eventually won the Nobel Peace Prize.
Besides that I will probably remember the riots in Oslo in January. (Or more precisely, I will remember waking up to five missed calls from my very worried mom. I attended the demo on January 8th, then spent the rest of the night in a basement rock pub oblivious to the broken windows and tear gas above me.)
The Khmer Rouge was on trial, but the story was so buried in other stuff that even I forgot to stay up-to-date on what was going on.
In less violent news, e-books kept popping up in both the news I read and the news I wrote. In February I touched a Kindle for the first time. In May my first article at my journalism internship was about the upcoming release of big-screen e-book-readers. And this Christmas, Amazon sold more e-books than paper books.
Meanwhile print media suffered, particularly the Boston Globe. While I studied the dwindling circulation figures on this side of the Atlantic, it seemed friends in Boston could judge the sad state of print media by the number of crying editors each week. But was it really that sad? I optimistically blogged about the future of journalism (English translation below), earning a somewhat unfair reputation as the only Norwegian journalism student who wants to work online.
Everyone talked about Twitter this year. Many of them specifically to tell me that they were not on Twitter and did not see the point. I found Twitter useful. It helped me get a job, find stories to write, discuss stories I was writing and brag about stories I had written. In other words, I used it as a journalism tool. It's hard to explain to sceptics why and in what way I think Twitter means something, but I think it does. (Meanwhile everything you need to know about Facebook is still available right here, and still true.)
One hash tag I ended up using a lot was #krevsvar. It started as an outcry over one court ruling on online privacy. Then it turned into a general campaign to "demand answers" (or krev svar in Norwegian) from my country's politicians about IT politics, particularly piracy vs. privacy. I followed the story through the late spring and summer, and in the fall I attempted to summarize it all for non-IT-geeks.
IT politics ended up mattering very little for Norway's general election this year. Overall, I think we'll remember this election as kind of a boring one, no? I remember being more pumped about Cory Doctorow being in Oslo on the day of the election. Not that I don't care about political debates, but what were we really debating this time around? I argued that our political labels were outdated, coming relatively clean about my own politics in the process. But I still enjoyed the fact that general elections make political geekiness almost universally acceptable conversation. Until one sports-obsessed person pointed out that for every game, soccer fans reach the same level of excitement I get every fourth year when I wait for election results. (If you can relate to that, you might want to check out a soccer blog called The DA. Apparently, I might write for them sometime. How hilarious is that?)
End of the decade:
My earliest memory of the 2000s is my parents dancing. I don't remember the beginning of the 1990s. I talked to some friends who are only like two years older than me, and they mentioned the 90s as their defining decade: Although they have obviously moved on, the fashion, music and general pop culture of the 90s is the norm they started out with. I was only 13 when the new milennium began, and so I don't really feel like I can say anything about the 00s compared to any other time. As far as following culture, politics and fashion, I have really only known this one decade (and I don't even know the name of the new one). Before that, I was a child. But now I feel nearly old, because I find the following thought scary:

Some blog posts I wrote in 2009:
Welcome to 2010 everyone!
Image sources: ArtyDandy, ModelsAreSmart and xkcd
Posted by Julie at 12:25 AM | Comments (2) | TrackBack
December 4, 2009
Hvilke norske blogger er best?
I Tordenbloggen 2009 skal "de 100 beste bloggerne kåre de 100 beste bloggene", for å bruke Tordenbloggens egen formulering. Jeg er blitt invitert til å være med, og det er selvfølgelig kjempehyggelig - og overaskende. I løpet av helgen skal jeg sende inn min liste med de 10 norske bloggene jeg synes har vært best i 2009. Listene fra rundt 100 norske bloggere skal bli til en topp 10-liste over bloggernes favorittblogger. Spennende!
Reaksjonen til én venninne var: "Men har du lest 10 norske blogger fast i 2009?"
Jeg har det, men jeg innser at jeg burde lest flere norske blogger i 2009 for å kunne ha noen mening om hvilke 10 som jeg synes var best. Jeg skriver først og fremst på engelsk selv, og jeg leser stort sett på engelsk når jeg er på internett. Men når jeg - en nesten engelsk-språklig blogger - får være med på kåringen, bør jeg skjerpe meg, tenke meg litt om og bestemme meg.
Og dette er en fantastisk grunn til å bruke MYE tid på blogglesing det neste døgnet.
Illustrasjon: PostSecret
Posted by Julie at 11:25 PM | Comments (1) | TrackBack
November 14, 2009
This week: Not quite magazines
I have discovered - and begun obsessively reading - a new blog this week: Yes and Yes by Sarah Von.
In one post she laments the stupidity of women's magazines: ("I could really do without another quiz to determine if he's into me (note to self: if you have to take a quiz to find out, the answer is no) or instructions on how to look thin while having sex.").
Sure, I've read that particular complaint before, and the obvious solution is to not read Cosmopolitan. But clearly, there is some part of me that wants to flip through glossy magazines that are not about international politics or the future of the media. I crave a break from all my different brands of geekiness. I always reach for Cosmo, Elle etc. if someone places one in front of me for free - and then I am always, always very disappointed. At best bored, at worst angry.
Luckily, the internet exists. This week I have read, noticed and remembered a lot of things that could very well have been in Cosmo. But if each of them were, they would have been the smartest, funniest thing in there.
Via Maggwire, you can browse articles from over 10 000 different magazines (in English), instead of committing to one or two from the newsstand. You may ask whether this site really gives us anything we didn't already have - the articles were already out there on the net before Maggwire, after all. But this site supposedly remembers your reading habits and makes recommendations accordingly. I say supposedly, because I only just found Maggwire on Thursday. There is an immediate benefit though, much like the one you can get from reading an actual magazine: you might learn things you didn't know you didn't know. I doubt that I would ever have Googled the words that got me to this podcast about newborns' accents. I found that because it was on Maggwire's front page of "popular articles".
While current magazine are turning into websites, photos from past magazines show up in books. For example, you could buy Dogs in Vogue, if you want a collection of fashion photos from Vogue magazine, with dogs. Like the ones in this post.
In general, blogs like Yes and Yes are my slightly funnier, weirder, smarter alternative to paper-based make-up/travel/parties/friends/shoes chit-chat. This week Yes and Yes taught me Five productivity tricks. I especially need to apply trick number one to my life:
"The First 10 Minutes" Trick
When I get home from work, the temptation to kick off my boots, eat a bowl of cereal and sit down in front a Hulu is nearly insurmountable. However! I (try) to force myself to spend the first ten minutes of my time at home doing something productive. Maybe that's paying bills, putting a load of laundry in, catching up on emails or changing the litter box. Regardless of what I do, those first ten minutes of my time away from work set the tone for the rest of my evening, and I find it a lot easier to keep doing stuff if I start off in that mind set.
Another alternative to a "Women's Magazine" is The Frisky. Unlike personal blogs that I read regularly, I probably skip about 5/6 of the posts on this online mag/group blog. But when I need a fifteen minute break from whatever geekiness I'm working on that day, there's always something kinda-interesting-without-being-too-serious on their front page. For example, a list of things that should be illegal. Here's a shorter list with the proposed laws I particularly agree with:
It should be illegal ...
... to wear tights as pants.
... to take longer than five minutes to prepare a drink at Starbucks. 
... to touch a pregnant woman's belly without her permission.
... for men to assume that by virtue of being female you a) want a relationship and b) want it with them.
... for men to wear spandex to yoga class and then proudly show off their boners.
... to call a size 8 (American sizes, so roughly 38 in Norway) woman "plus-size."
... to speak only as a "we" once you're a part of a couple.
I disagree with The Frisky on some legal issues. It should be legal ...
... to talk on your cell phone on public transportation. 
... to wear full makeup and heels to go to brunch on Sunday morning.
The Frisky also alerted me to something someone at at least one of my Halloween parties should have worn: the knife ring. Scary jewellery by Renee Andriole.
I firmly believe that paper is a horrible way to deliver current hard news. And potentially anything paper can do, the internet can do better. But I still think people will be reading magazines for entertainment, photos and timeless articles for a long time. I still buy magazines and subscribe to weeklies. I mean, this post starts with a photo from the July 2009 issue of French Vogue, which I'm glad I bought. I liked it enough to photograph some of the photos, so I would have them when I lost the paper magazine.
Thing is, though, if I'm going to spend money on a stack of pages, they better not be filled with articles I've already read. And seriously, I had read every "Women's Magazine" article by the time I started high school. It's like they're on a loop, and they just add new illustrations. Blogs win.
There are more links and tips in the "This Week" section of According To Julie
Posted by Julie at 6:11 PM | TrackBack
November 11, 2009
Blogging - What's the point?
I was going to call this "Why you should blog - even if you have no readers", but then again, I do have readers. I mean, my aunt prints out some of my Norwegian-language posts so my grandparents can read them.
Seriously, I know that there are people out there who don't know me at all, but who are still reading, for whatever reason. And I blog for them as much as I blog for my friends. But mainly, I blog for myself.
I've been blogging since June 2005. When I started, people asked me: "Do you have time for this?" and I thought "Time? Blogging isn't time-consuming!" Since then, I've used this site as an (incomplete) digital archive of things I've been thinking about anyway. I think pretty much everything I've put here needed to be written. Rather than bookmarking interesting news articles, writing out the lyrics of a song I obsessed over in a journal (yes, I was once a fourteen-year-old girl) or simply talking about the same thing with every person I met, I could store my thoughts online. And as an added bonus, sometimes someone cared about it.
Continue reading for some examples of why I blog, and what blogging did to me.
I guess the more interesting question is: Why are you reading this?
I have blogged in order to...
And sometimes people cared...
People have often answered the questions - rhetorical or not - that I've posted here, in real life, or by e-mail, even if they didn't comment.
When I wrote about Steve Jobs' commencement speech in 2005, it led to an article about that speech in one of Norway's main papers.
After I discussed the need to educate "globalists" in June 2006, I was recruited into the student government.
My rant on Skeidar got me a free lunch and gift certificate, and the chance to tell this furniture chain how they should be doing business. ("Are you a business school student? Since you think about this so much..." "No. I'm a customer.")
My musings on politics nearly made someone cry.
My guide to feeling happier and my thoughts on how I would spend the last six months before I died actually made someone cry.
This blog post about brain drain started a debate with the writer I was criticizing. This led to an article in the magazine argument, which eventually led to a permanent writing position there, which eventually led to my current job as section editor. This spring, I'll be going to South Africa to report on brain drain issues.
I published this blog post about rape in the newspaper Aftenposten back in March 2007. Three years later, I met someone at a party who talked about that article. Pretty fun to be able to say: "I wrote that!"
And then of course, there's the one about the future of journalism.
I didn't plan for these reactions to happen. And while I'm far, far from being the kind of blogger who achieves money or fame from blogging, I can definitely say that blogging has changed my life.
In the winter edition of the Norwegian magazine argument, there will be an article by Kristian Landsgård about political blogging - and it's pointlessness. Kristian has been using his blog to test out ideas and thoughts that may or may not end up in his magazine article. And as we were discussing his work, we couldn't escape the irony: a political blogger arguing that political blogging is pointless? So why is he doing it? And this got me thinking about what the point of www.accordingtojulie.com really is.
So that's why I'm still blogging. Why are you still reading?
Posted by Julie at 3:05 PM | Comments (3) | TrackBack
October 27, 2009
Nerdepolitikk
- Neste stortingsvalg kommer til å bli avgjort av internett.
Sitatet er fra en Venstre-velger jeg snakket med på fest. Og en journalist jeg diskuterte med på debatt. Og en rekke bloggere. I forkant av stortingsvalget 2009 var det mange som mente at internett-spørsmål som opphavsrett og personvern ville bli de store sakene neste gang - men ikke nå. 
For enn så lenge har ikke politikerne forstått hvor viktig internett er.
21. august inviterte IKT-Norge, interesseorganisasjon for landets informasjonsteknologibransje, alle partiene til IT-politisk debatt. Den dagen, tre uker før valget, var partiene vage. Anders Brenna, nettsjef i Teknisk Ukeblad og selverklært IT-nerd, oppsummerte politikernes synspunkter slik: «Vi aner ikke hva vi vil, men vi vil bestemme. Stem på oss!» Alles IT-politikk var at de ikke hadde IT-politikk.
Politikere uten IT-kunnskap
Politikere er kjent for å gi vage svar, så ullenhet like før et valg er ikke overraskende eller spesielt bekymringsverdig i seg selv. Det skumle spørsmålet er om dagens politikere har nok kunnskap og interesse til å bestemme seg den dagen de vil gi et svar.
- Stortingskandidatene mangler et helhetlig syn på hvilken rolle informasjonsteknologi spiller i samfunnsutviklingen. Her må det voksenopplæring til, sa Per Morten Hoff, generalsekretær i IKT-Norge, etter politikermøtet.
Fornyings- og administrasjonsminister Heidi Grande Røys er den i Stoltenberg-regjeringen som har hatt mest med IT-spørsmål å gjøre. I sommer gikk hun ut i Dagens Næringsliv og klaget over at ingen av kollegaene hennes snakket om IT. Hun kalte mangelen på diskusjon med andre politikere «stusselig».
Da jeg intervjuet Venstres Trine Skei Grande om partiets syn på fildeling - uvanlig tydelig sammenlignet med andre partier - sa hun:
- Det er lav kompetanse på fildeling i det politiske miljøet i Norge, for å si det mildt. Som politiker blir man mest premiert hvis man ikke bryr seg.
Politikere behandler fortsatt IT som en sak for spesielt interesserte.
Kun for nerder?
Er det nettopp det IT er: Nerdenes spesialfelt? Et område for informatikkstudentene på Blindern, ikke for statsviterne?
Spørsmål om oljeboring har fått stor plass i valgdebattene, men det er ikke fordi folk er så interessert i oljen i seg selv. Vi forstår at oljen er politisk viktig, selv hvis vi ikke forstår hvordan den utvinnes. Det er fordi oljepolitikk omhandler prinsipielle spørsmål.
Det gjør også IT-politikk. Men hva er disse spørsmålene? Hvilke konfliktlinjer er det egentlig som tegnes opp av internett?
Prinsipp mot prinsipp
Hittil har diskusjoner om IT-politikk - i hvert fall utenfor IT-bransjen - blitt dominert av fildelingsdebatten. I forrige utgave av argument (pdf) trykket vi også en artikkel om nettopp dette. Jeg skal ikke gjenta den, men fortsette der den avsluttet: Fildelingsdebatten tar nemlig opp spørsmål utover hvem som skal betale for kultur på hvilken måte.
Hvordan skal man for eksempel finne og eventuelt straffe nettpirater? Representanter for norsk kulturliv har lansert «Dele - ikke stjele»-kampanjen. De oppfordrer politikere til å håndheve åndsverkloven, men de har ingen klar idé om hvordan.
For å kunne slå hardere ned på fildelere etter amerikansk «saksøk alle!»-modell, trenger vi en lovendring. Den svenske IPRED-loven pålegger nettleverandører å utlevere sine kunders ip-adresser ved mistanke om ulovlig nettaktivitet. I praksis har loven ført til overvåking og deling av sensitive personopplysninger.
I Frankrike kan fildelere miste nettilgangen i ett år hvis den nye HADOPI-loven trer i kraft. Mulige fildelere kan bli nettløse uten politietterforskning. Bevisbyrden ligger på den mistenkte. Slik lovforslaget er nå, kan myndighetene gi nettpiratene to advarsler. Deretter blir saken om å utestenge fildeleren fra internett sendt videre til en domstol.
I IT-politikk kolliderer prinsippet om opphavsrett med prinsippet om personvern, og med prinsippet om at du er uskyldig inntil det motsatte er bevist. Så lenge norske politikere ikke svarer på hvilke prinsipper som skal komme først, er det vanskelig å håndheve åndsverkloven - som forøvrig også trenger en revidering.
Privat nett-politi
I mellomtiden er politiet underbemannet også på datakrim. Politiet får stadig flere fildelingsanmeldelser, men fortsetter å ta opp én eneste IT-sak i året til etterforskning. Mer har de ikke kapasitet til.
Dermed har etterforskningen av fildeling blitt en sak for private advokatselskaper. Datatilsynet ga advokatselskapet Simonsen konsesjon (pdf) til privat etterforskning av ulovlig fildeling 27. november 2006. Tilsynet ba samtidig om politisk debatt om ulovlig fildeling: Burde private aktører gjøre politiets jobb i slike saker? Hvilke regler skulle de i så fall følge?
Den politiske debatten kom aldri.
22. juni 2009 bestemte Datatilsynet at Simonsen ikke får fornyet konsesjon til videre etterforskning. Begrunnelsen for avslaget er mangelen på politisk debatt.
Samtidig har Post- og teletilsynet åpnet for privat utlevering av nettbrukeres ip-adresser ved rettslig kjennelse - altså en slags midlertidig IPRED-lov (pdf). Nettleverandøren Lyse Tele nektet å utlevere kundeinformasjon og saken gikk til Stavanger Tingrett. 5. mai kom Stavanger Tingrett med en midlertidig kjennelse. Saken kalles «Max Manus-saken», fordi kunden som etterforskerne ville ha ip-adressen til, er mistenkt for piratkopiering av filmen om Max Manus.
Dommen er fortsatt hemmelig, og det har ført til protester fra bloggere, IT-journalister og andre som krever informasjon om rettigheter på internett. Debatten gikk på Twitter, på blogger og i enkelte aviser, blant annet Teknisk Ukeblad. Politikerne svarte nesten ikke på journalistenes spørsmål.
- Passiviteten i Norge er øredøvende, sier Georg Apenes, direktør i Datatilsynet, om nordmenns forhold til sitt eget personvern.
Krever svar
Nettdebatten om Max-Manus-saken vokste og ble den såkalte «KrevSvar»-kampanjen. Denne kampanjen har spurt politikere om blant annet Datalagringdirektivet, nettsensur og straffenivå for piratkopiering. Krev Svar stiller konkrete spørsmål som:
Ønsker deres parti å innføre lover som kan stenge enkeltpersoners tilgang til internett (ja/nei)? Hvis ja, vennligst svar på følgende spørsmål: Er piratkopiering en forbrytelse som burde kunne føre til en slik straff (ja/nei)?
Og: Er deres parti for at opplysninger som kan knytte en person til en IP-adresse skal utleveres til andre enn politiet (ja/nei)? Hvis ja, vennligst svar på følgende spørsmål: Må det ligge en domsavsigelse til grunn (ja/nei)?
Svarene er nå tilgjengelig på www.krevsvar.no. Høyre og Arbeiderpartiet klarte imidlertid ikke å svare ja eller nei. Høyre svarte: «(...) detaljnivået som forlanges i svarene ligger langt over det vi som et opposisjonsparti har mulighet til å gå inn i.»
Nerder og pirater
Høyre burde kanskje formulert seg klarere, for det finnes velgere som har IT og personvern som hjertesaker. I Sverige har en liten gruppe fildelere skjønt det, og nå er de i Europaparlamentet under navnet Piratpartiet. Piratpartiet er aktive i 33 land.
«Hvis det ikke rettes mer politisk fokus mot fildeling, står vi i fare for å få piratparti-tilstander i Norge også. Vi kan risikere at partier med snever politikk vinner påfallende mange velgere ved å rette seg mot de unges sørinteresser,» skriver Ulrik Tetzschner, praktikant i tenketanken Civita, i en kronikk trykket i Dagens Næringsliv 2. juli.
Norske politikerne har altså all grunn til å bli litt mer nerdete. Skal man få lov til å si «informasjonssamfunnet» i taler, må man ha en mening om hvilke regler et slikt samfunn skal styres etter.
Opprinnelig trykket i argument 2009-5 (link til pdf kommer snart, papirutgaven finner du hos Narvesen og Oslos studiesteder), da med følgende presentasjon av forfatter og fotograf: 
om forfatteren: Julie R. Andersen (f. 1986) er journaliststudent, statsviter, samfunnsredaktør, blogger og nerd. Hun brukte sommeren før valget til å skrive om internett på internett, som IT-journalist på Teknisk Ukeblads nettsider www.tu.no.
om fotografen: Anders Brenna (f. 1974) er nettsjef i Teknisk Ukeblad. Han blogger på www.blogg.abrenna.com og www.tekniskbeta.no. Han har IP adresse 193.212.1.10 og mener at "Står det ikke på nett så har det ikke skjedd."
Posted by Julie at 10:33 AM | Comments (1) | TrackBack
August 27, 2009
xkcd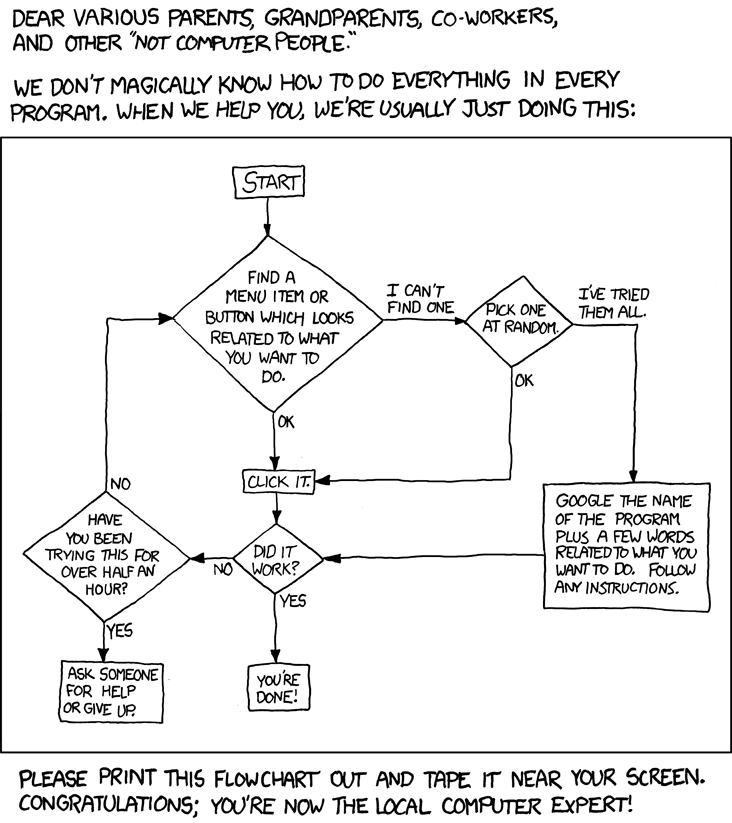 Posted by Julie at 8:34 PM | Comments (1) | TrackBack
July 14, 2009
The IT news I couldn't be bothered to report on today
Today's IT news must have set some kind of boredom record. Here's what the internet had to say today.
1. Microsoft is slow
Microsoft announced that Microsoft Office is going online. I replied: "What? They haven't done that already?"
Turns out the announcement is technically old news Even if it weren't, the fact that I hadn't noticed that Microsoft Office Online didn't exist yet, proves that I don't need it, and I've been cheering for ThinkFree and Wikis for some time.
Digi reported on Microsoft's online move in Norwegian, subtly pointing out that this wasn't really sensational. Digi's Eirik Rossen writes:
"This is happening three years after Google launched Google Apps, a year and a half after Microsoft formally revealed a more web-centered strategy, and nine months after announcing their own free web applications,"
My favorite comment was from Stephen Fry on Twitter: Citing Microsoft's "We believe the web has a lot to offer in terms of connectivity", Fry says: "Wow! So ahead of the curve, MS."

2. Some people are not on Twitter
Yesterday I learned via TechCrunch that teenagers aren't using Twitter because it doesn't feel safe. At least, Matthew Robson's friends aren't using Twitter.
Robson, 15, wrote a "report" on teen media habits. Actually, he wrote a blog post about his own friends, but since he happens to be an intern at Morgan Stanley, we'll call this a report on teen media habits. And then we'll give it plenty of coverage in various online news sources.
I think TechDirt's take on this was the best. Under the headline "Teenager Talks About What His Friends Do Online; Media Flips Out", Michael Masnick writes:
"It certainly gives a decent view of what's happening in one kid's social circle. Nothing in it seems all that surprising. Kids communicate a lot on the internet. They don't buy music (oh yeah, he contradicts that "other" questionable study of the day that claimed streaming was replacing downloads by noting that his friends prefer to actually have the files, but don't pay for them). It's difficult to see why this is a big deal, but because Morgan Stanley put its logo on it, suddenly it's getting a ton of coverage from Bloomberg, The Telegraph, The Guardian, The Financial Times and others. It's as if none of them have ever thought to actually ask a teenager what kind of media and technology he or she uses. But the key point here is that while there are some useful insights raised by the kid (though, nothing too surprising) it's still just the anecdotal musings of one kid."

Part of the reason Robson's friends don't use Twitter is that they can't be bothered to pay for it. If these kids don't even know how to use Twitter for free, why should we listen to their thoughts on social media?
Furthermore, the most surprising thing I've read from Robson's "report" is that kids are afraid of putting their thoughts out on the web where everyone can read them. Hello? What about LiveJournal and MySpace and every other kind of blog? Does Robson's social circle think that blogs are private? You'd think a Morgan Stanley intern had smarter friends.
Don't get me wrong. It's great that someone is listening to what fifteen-year-olds really have to say, and I'm sure Robson has done an excellent job at explaining his thoughts. The saddest thing about this is the echo of Norwegian media's joy when they discovered Facebook as a source of information on kids. "Hurray! I can count the number of members of this fan group and come off as all insightful about the youth of today." Doesn't anyone talk to children anymore?

3. Internet addiction cannot be cured by electric shock therapy
Yes. Someone actually thought it could be.
Of course, there is a story here. It's about abuse, censorship and horrific maltreatment. But putting that aside (cringing inwardly, but even so) and thinking about the IT angle of this, I'm not really buying the obsession with internet addiction at all.
Last month, Norwegian researcher Petter Bae Brandtzæg concluded that 1 per cent of Norway's internet users suffer from internet addiction. (And yes, that time my magazine mentioned it, but we only quoted the Norwegian version of Reuters/AP)
Back to the story: The reason Brandtzæg knew these people were addicted, was because they spent more than five hours using social media per day. I'll admit I'm not an expert on addiction, but I didn't think that it was diagnosed simply by determining how much the patient is exposed to what he or she is possibly addicted to. Correct me if I'm wrong, but whether or not you're an alcoholic isn't a question of how much you drink, but why you drink and how you feel if you don't.
My job is to be online, so I feel I'm speaking with some authority here: Having a Twitter tab open in your browser for hours at a time doesn't qualify for being in need of medical assistance. But on a more fundamental level: an unhealthy habit is not a disease. Having some kind of problem does not necessarily make you sick. I'm not addicted to eating more potato chips than I should, forgetting to water my plants or buying stuff I don't need. It just happens sometimes. I don't expect anyone to cure me.
And if you think I'm being unnecessarily harsh here, think of it this way: I'm willing to take responsibility for my own constant Twitter-refreshing, in the hope that the authorities will have time to help out with peoples' real (but similarly vague) disorders like chronic fatigue, depression and phobias.

P.S. Italian bloggers are on strike today

I'm obviously sympathetic to bloggers, and I'm obviously against internet censorship. But if someone tells you to shut up, don't respond by shutting up.
I'm working full time at Teknisk Ukeblad this summer, where I write and publish technology news. But it has to be real news.
Posted by Julie at 8:40 PM | Comments (1) | TrackBack
June 25, 2009
We're all correspondents
Cartoon by Dan Wasserman in The Boston Globe
The Onion News Network has another funny way of putting this: "After examining the evidence from the 25 iPhones, 15 Blackberries, 10 video cameras and 40 digital cameras obtained from the students who attended the party, we were able to reconstruct every second of the event."
Posted by Julie at 7:31 PM | TrackBack
June 22, 2009
Piratjakten eller Hvordan jeg har det i praksis
Et litt utfyllende svar til de som spør "Hvordan har du det i Teknisk Ukeblad, Julie"?
Skal vi tro Twitter er det en merkedag for rettsstaten i dag. Delvis pga. meg.
I praksistiden hos Teknisk Ukeblad har jeg blant annet fulgt en sak om etterforskning av fildeling. I Teknisk Ukeblad har vi kalt den "piratjakten", men noen andre har oppkalt saken etter Max Manus, og Twitter bruker #krevsvar.
Piratjakten er en komplisert sak fordi den omhandler jus, IT, politikk (eller manglende politikk, egentlig) og tilsvarende ingredienser som gir nyheter "tyngde" (og dermed gjør dem "tunge").
Den kan likevel bli en viktig prinsippsak, og den har engasjert mange. Ikke minst nettsjefen her i Teknisk Ukeblad, Anders Brenna.
Kort oppsummert dreier det seg om advokatfirmaet Simonsen som etterforsker nett-pirater. Simonsen driver privat etterforskning, og det betyr at de ikke er regulert av lover slik politiet eller vaktselskaper er hvis de etterforsker noen. De har frem til i dag blitt regulert av en midlertidig konsesjon fra Datatilsynet.
Simonsen har bedt om å få utlevert ip-adresser der de mener det er grunn til mistanke om piratvirksomhet. Post- og teletilsynet åpnet for privat utlevering ved rettslig kjennelse i et enkeltvedtak 19. april 2009.
Nettleverandøren Lyse Tele nektet å utlevere kundeinformasjon. Stavanger Tingrett kom med midlertidig kjennelse om hvorvidt ip-adressene skulle ut. Det skjedde 5. mai, men kjennelsen er fortsatt hemmelig.
I dag har Datatilsynet bestemt at konsesjonen ikke fornyes. Piratjakten stanses, med andre ord. Og begrunnelsen er at saken ikke har fått nok politisk oppmerksomhet.
Simonsen skal klage. Saken fortsetter.
Jeg har skrevet flere artikler om piratjakten og laget
en oversikt over hele saken her. Og en dag, etter at hele saken er avsluttet, kommer jeg til å legge ut en "bak kulissene"-bloggpost om denne prosessen.
Posted by Julie at 3:28 PM | Comments (2) | TrackBack
June 14, 2009
The year the media died
"I was a lonely Mad Ave creative type, with some good ideas and a lot of hype, but I knew the picking was ripe the year the media died."
Digital media from the point of view of a mad man.
"As I watched users generate without ad support to carry the freight, no content like MTV could break consumers' love of free."
Posted by Julie at 9:31 PM | TrackBack
June 13, 2009
Rant on technology and manners – the sequel
Flashback:
Part one of this rant was written way back in November 2007, when I was a college student, part-time receptionist and student government representative. I combined these duties with "a combination of secretary, therapist, event planner, student guidance counselor, tutor, mediator and research assistant to everyone I know", and to say that I checked my e-mail "like it was my job" would be an understatement. After ranting, I set up some ground rules for communicating with me, and they actually seemed to work. Or - more likely - writing a rant relieved my stress, and I was able to handle all the e-mails.
"Communication technology can be stressful because it forces us to be perpetually available to anyone who has our contact information. This idea makes people turn their phones off, only check their e-mail during weekdays, and relish the lack of internet connection in their vacation homes. This can be extremely stressful to the people who need to get in touch with them, but sometimes people just need a break, right? As usual, the problem is not e-mail or text messaging in itself, but the fact that our habits and our rules of decent behavior haven't caught up with the changes in technology."

- Julie Andersen (yeah, I'm quoting myself)
The actual rant
These days I am still a college student, but now I'm also a journalist at three papers, section editor of one (and soon to be two, fingers crossed) papers and maid of honor at a wedding less than two months from now. I don't feel all that busy, but I have no free afternoons/evenings this coming week. I'm busy in a good way, doing things I enjoy, but still.
My life works because I live in a world populated by adults who are comfortable with communication technology. Yammer, Twitter, Gmail, Facebook, Skype, my tiny computer, my cell phone and even Escenic (with all its faults) make my life easier.
I love being able to work from anywhere. That doesn't mean that I have to work all the time. The possibility of keeping in touch with old friends through Facebook doesn't mean that I compulsively check the (very annoying btw) Facebook front page. And yes, I do still read books, thank you very much, despite also reading blogs and online news every day.
See I have free will. And discipline. And I know how to make technology work for me.

And I assumed that other people my age in my part of the world did too. I am shocked to find Norwegian twenty-somethings who only check their e-mail every two weeks (oh and answering e-mails is just too much for them), who blame the distractions of the internet for their bad term papers (no, not as a joke, seriously), and who honestly see Facebook as nothing but a source of emotional trauma.
And I think: But you're adults! And you're young! Why do you fail at modern communication?
I know I'm preaching to the converted here. I mean, you, lovely reader, are obviously online, reading an enjoyable blog. You do not fail at life. And I'm not going to provide details to the various stressful situations I'm referring to. I just needed to leave my apartment today, and get some carrot cake and a coffee shop window seat and blog. So I did.

In conclusion:
When technology works, it removes all the excuses. You have to actually end the uncomfortable phone call, rather than hang up and blame it on losing the connection. You have to assume that people who don't call, e-mail, text, google, Facebook-friend or Twitter-follow you really aren't that into you. And you really need to get creative if you want a reason not to make a deadline.
So we're left with our own human faults. Our own lack of concentration, commitment or creativity. Let's just be honest adults about it.
Oh and by the way:
Pictures: MarkyBon CreativeCommons, MarieJo L'Aventure Lingerie, Nemi by Lisa Myhre
Posted by Julie at 2:19 PM | TrackBack
May 4, 2009
Today weblogs, tomorrow booklogs
"(...) readers will stumble across books through a particularly well-linked quote on page 157, instead of an interesting cover on display at the bookstore."
Author Steven Johnson predicts booklogs, blogs that link to books, in a future with e-books.
Posted by Julie at 8:23 AM | Comments (1) | TrackBack
April 26, 2009
Illegal = global
I never downloaded music illegally at all - until internet radio Pandora became off limits because I didn't live in the US.
The market for illegal mp3 files is global, while the market for legal music is still supposed to be limited by international borders. Why?
Øyvind Solstad at NRK Beta writes (in Norwegian):
One world - not 200 countries.

The music- and film industry seems to think we still cross the Atlantic in steam boats, and that we don't hear about things that happen in the US just because we live in Norway. So they ignore the fact that young people don't think about international borders and where things come from. (...) People don't understand why they can't listen to some songs on Spotify in Norway, but if they drive over the Swedish border and go to an internet café they can. They don't understand why they can't see American music videos on YouTube or shows on Hulu.com. They don't accept that slow bosses in the music- and film industry still haven't come up with a system where an artist can release their music all over the world (Øyvind Solstad, my translation).
Almost exactly a year ago, I wrote about this problem for journalism class at the American University of Paris (click "continue reading" for the full article).
A week later, my American friend was trying to buy a song from iTunes. She couldn't, because her laptop was American. I could buy it for her, because my laptop was Norwegian.
We were both in Paris at the time.
That is absolutely ridiculous.
Does piracy kill music – or globalize it?
Julie Andersen – Journalism 2 – April 2008
If music is distributed through the internet, where you live need not matter for what music you can buy. In theory, anyone with an internet connection can have the same access to music. Yet the record industry is still enforcing national borders, in an effort to stop illegal file-sharing. Is a college student who downloads mp3s a greedy thief or an informed activist? Is file-sharing bringing the music industry down, or are record labels and music retailers to blame?
In summer 2006, a copyright bill was drafted in France, requiring music downloads to be compatible with all portable digital music players. Apple sent an e-mail statement to Bloomberg, saying this would result in "state-sponsored piracy".
Music on CD can be transferred to a computer and then played and distributed in several formats. Mp3-files, one of the most popular formats among illegal downloads, are compatible with most media players. Legal downloads from Apple are only compatible with iPods and the iTunes computer media player.
France amended the draft, so that copyright holders could still set compatibility standards. Had France forced Apple to make its downloads compatible with other music players, iTunes Music Store France would have closed down, regardless of what the artists wanted, according to the BBC.
The music industry likens illegal file-sharing to shoplifting CDs. When you shoplift a CD, you get the same product without paying for it. When you download illegally instead of legally, you might get a better product without paying for it.
Following the shut-down of popular torrent-based file-sharing site Oink on October 23rd 2007, Rob1, a blogger who has worked within the music industry, wrote what his commentators labelled "the bible of file-sharing". He encouraged music fans to stop buying music from major labels in order to force a change in the way music is distributed. Rob called Oink: "the most complete and most efficient music distribution model the world has ever known" and wrote: "If the music industry had found a way to capitalize on the power, devotion, and innovation of its own fans the way Oink did, it would be thriving right now instead of withering."
People who download music illegally, claim that they can't afford to fill an iPod at the 99 cents per song rate that iTunes is offering legally, and that if they like a band after listening to their music for free, they will find a way to support them. According to promusic.org's guidelines to online music: "(...) there is no general right or exception that lets you copy before you buy without permission, for the obvious reason that once something is copied it probably won't be bought." The question is, would it have been bought if it were not copied?
Sara2, a 20-year-old American student at the American University of Paris, says she would never pay 99 cents for the songs she downloads illegally today. She has been downloading music since 1999, but she still buys CDs. She will typically get recommendations from music blogs, download some songs, and then buy the album if she likes the music.
Moving to Paris has made this more difficult. "There is nowhere I can get music here in Paris," she says "A lot of the stuff I want is obscure - albums you can barely find in the US and definitely not in Paris."
Natalie3, another 20-year-old American student at AUP, says: "I used to buy albums in high school, but now that I'm in France, I'm not going to spend the equivalent of 20 dollars on a CD. But music keeps me going, so I either stop going, or a friend sends me songs over the internet." While she does not believe in downloading music through torrents and file-sharing sites, she exchanges zip files of albums with her friends.
She likes to spend money on her favorite band Radiohead, who released their latest album In Rainbows as a download and allowed fans to set their own price. "I think artists can get their music out online legally – MySpace or allowing downloading from your site." she says, "But the real CD came with stickers."
Both girls say that allowing fans to download, is good publicity for a band. However, Radiohead could not have sold their album this way if they were controlled by a label, and their music is not available on iTunes.
Sara plans on working in the music industry, and she says: "It's all about politics. An artist can be totally trash, but if they're marketed toward the right demographic, the label will still support them."
Despite having a friend in the States who was sued for 5000 dollars for file-sharing, Sara is not worried about getting caught. "Should I be?" she asks. In France, privacy laws are much stricter than in the States, and they have generally prevailed over copyright laws. Although AUP has a policy against file-sharing, Ali Rahimi, director of Information Technology Services at AUP, says that the university respects students' privacy. Firewalls on the AUP network make downloading to student's laptops while on the school network difficult, but Sara knows how.
Trent Reznor, Nine Inch Nails frontman and music producer, admitted to New York Magazine that he was an Oink member and that "If OiNK cost anything, I would certainly have paid, but there isn't the equivalent of that in the retail space right now." While many file-sharers have agreed with him through blogs and forums, Natalie says: "I don't want the CD to disappear. I believe in album artwork, and I believe in the crisp smell of the CD when you open it for the first time, the sound of the case when you open it, and wondering whether or not there are lyrics. I want that to keep happening."
1Known online only by his first name.
2Named has been changed.
3Name has been changed.
Posted by Julie at 12:29 PM | TrackBack
April 3, 2009
Newspapers die - long live journalists
It's not too late, Julie. My American friend, who shares my name and profession, is a co-op at a large American newspaper with economic difficulties. From her desk at the business section Julie can see the other sections closing down, newspapers in other cities folding and commentators predicting New York Time's bankruptcy by May 2009. Experienced colleagues pat the young journalism major's head: You're entering a dying business. You're young. It's not too late to choose another career.
Meanwhile, back in Norway, we're discussing newspaper death, increased press subsidies and an economic stimulus plan specifically for the media. The financial crisis is making a difficult situation worse, but newspaper economics would be going through a tough period even without that added obstacle. Readers stop subscribing and read online instead. And if we believe figures cited by John Olav Egeland in Dagbladet1, you need ten online readers to achieve the same ad revenue as one paper subscriber.
And still I've chosen to study journalism at Oslo University College. I happen to think journalism isn't dead. Paper producers and printing press companies face an unstable future, but the world will always need good journalists.
I repeat: good journalists. What it takes to be a good journalist, that's what's changing. And I'm starting to wonder if today's journalism students are learning what it takes to be tomorrow's good journalists.
Good journalists understand their own industry. For the newspaper industry, the Internet is a disruptive innovation. The term is from Harvard professor Clayton Christensen. A disruptive innovation makes an existing technology irrelevant. In the blogosphere, editors, economists and media experts from around the world are discussing how to build a sustainable business model for online media.
Young journalists need to be a part of this discussion. Blogosphere and disruptive should be in our vocabulary. We need to be able to discuss press subsidies, RSS subscriptions and micro-payments. There are plenty of other debates too. Online publications with their constant deadlines and updates make debating journalists' new working conditions necessary. The possibility of editing texts after publication blurs the line between journalist and editor. Web layout is an entirely different science compared to paper layout. These debates are not part of the journalism student's curriculum. So we need to teach ourselves about the media economics of tomorrow.
Good journalists think ahead. Christensen uses journalistic language, a sports-based metaphor, to make this point: Don't run to where the ball is, run to where it will be. In "Rett på sak!"2, a text book for first-year journalism students, Veslemøy Kjendsli writes that text on the web should not be long enough to require hitting the "page down" button. In layout class, the lecturer sighs and complains that the internet doesn't have room for good photography. Per H. Baugstø's book "En avis er ment å skulle leses"3 starts by stating that paper newspapers will always exist, because paper is the most comfortable reading and storage format. There seems to be a consensus that online journalism is shallow news with another newspaper as its only source, while paper is for features and opinions.
Today's curriculum writers and lecturers of journalism succeeded under the old system. There's nothing wrong with that. But students who study how to be critical of sources and how to spot weak arguments have no excuse for accepting too much at face value. Many of these authority figures base their views on faulty principles. They assume that screen quality and computer capacity and speed – not to mention people's media habits – will remain unchanged from now on. To use Christensen's words: They don't think the ball is moving any more, so they've stopped running.
Good journalists see challenges as opportunities. My classmates wonder why I want to be an online journalist. Internet publications are so stressful. I disagree. Nothing stresses me more than knowing that the paper edition is printed and that it's too late to make changes. As journalists we should adjust to the internet, not just because the disruptive technology makes it necessary, but because online journalism has more potential than paper journalism.
On the internet the way the text looks will vary by screen size, operating system and browser. The reader can also choose to access the publication via RSS, e-mail or traditional online newspaper, and this will also change the layout. We could say that we're losing control over layout. We could also say that each reader is being given more layout options. Does the reader want just the short summary, or every published story on the subject? Is the text the most important part of the travel feature, or will the reader also download the panorama photograph with links and zoom tools? When we no longer have to worry about the length of columns or the number of pages, that's a good thing.
Good journalists are always writing. If Julie, my fellow students and I give up writing because of changes in techology and economics, well, then the pessimists are right: It's not to late to choose another career. As long as we write well, and we write no matter what, it's not too late to be a journalist.
English translation of Aviser dør - Lenge leve journalister. The Norwegian version was originally published in Journalen, and was the reason for all of this.
1Dagbladet, literally The Daily Magazine, is one of the major daily tabloids in Norway.
2"Straight to the Point!"
3"A Newspaper is Meant to be Read"
Posted by Julie at 8:42 PM | Comments (1) | TrackBack
March 30, 2009
Oslo-caféer med internett
Thomas har laget oversikt over caféer i Oslo med strøm og internett. Hurra for Thomas!
Han nevner blant annet Stockfleth's, The Fragrance of the Heart, Litteraturhuset og Tea Lounge.
Selv anbefaler jeg Kaffe Gram.
Posted by Julie at 8:53 PM | TrackBack
March 23, 2009
Aviser dør - lenge leve journalistene
It's not too late, Julie. Min amerikanske venninne, som har samme navn og yrke som meg, har praksis i en stor amerikansk avis med økonomiske problemer. Fra sitt skrivebord i avisens økonomiseksjon ser Julie at de andre seksjonene legges ned, avisene i nabobyene går under og kommentatorer spår at selveste New York Times vil være konkurs i mai. Erfarne kollegaer klapper den nyutdannede praksisstudenten på hodet: Du er på vei inn i en døende bransje. Du er ung. Det er ikke for sent å velge en annen karriere.
I Norge diskuteres avisdød, økt pressestøtte og egen krisepakke til mediene. Finanskrisen gjør vondt verre, men avisøkonomien ville uansett vært i en vanskelig fase. Leserne slutter å abonnere og leser heller på internett. Der skal det ti lesere til for å oppnå samme annonseinntekt som én papirabonnent, i hvert fall i følge Dagbladets John Olav Egeland.
Likevel har jeg begynt på journalistikkutdanningen på Høgskolen i Oslo. Jeg tror nemlig ikke journalistikken er død. Papirprodusenter og avistrykkere går en vanskelig tid i møte, men verden vil alltid trenge gode journalister.
Jeg gjentar: gode journalister. Hva det vil si å være en god journalist, endrer seg. Og jeg har begynt å tvile på om dagens journaliststudenter blir utdannet til fremtidens gode journalister.
Gode journalister forstår sin egen bransje. For avisbransjen er internett en såkalt disruptiv innovasjon. Begrepet er fra Harvard professor Clayton Christensen. En disruptiv innovasjon gjør en eksisterende forretningsmodell irrelevant. I bloggosfæren diskuterer derfor redaktører, økonomer og medieforskere fra hele verden hvordan man kan bygge en lønnsom forretningsmodell for nettmedier.
Unge journalister må være med på den diskusjonen. Da må ikke bloggosfæren og disruptiv være fremmedord for oss. Vi må kunne diskutere pressestøtte, rss-abonnement og mikrobetaling. I tillegg er det nok av andre debatter man kan ta. Nettmedier med løpende deadline og oppdateringer midt på natten tvinger frem en diskusjon om journalistenes arbeidsforhold. Mulighetene for endring av tekster etter publisering gjør grensene mellom journalist, deskarbeider og redaktør uklare. Layout på nettet er et helt annet fagområde enn layout på papir. Disse debattene er fraværende i journaliststudentenes pensum. Da må vi selv sette oss inn i morgendagens presseøkonomi.
Gode journalister tenker fremover. Christensen bruker journalistenes språk, en sportsmetafor, her: Ikke løp til der ballen er, men til dit den kommer til å være. I "Rett på sak!", pensumbok for førsteårsstudenter i journalistikk, skriver Veslemøy Kjendsli at tekst på nett ikke bør overskride ett skjermbilde. I layout-undervisningen sukker foreleseren og sier at gode bilder ikke får den plassen de fortjener på nettet. Per H. Baugstøs pensumbok, "En avis er ment å skulle leses ", begynner med å fastslå at papiraviser alltid vil finnes, fordi det er den eneste behagelige måten å lese og oppbevare nyhetsstoff på. Det ser ut til å være enighet om at nettjournalistikk er overfladiske nyhetssaker med en annen avis som eneste kilde, men på papir trykker man reportasjer og kommentarer.
Dagens pensumforfattere og forelesere i journalistikk er de som har gjort det bra under det gamle systemet. Det er ikke noe galt i det i utgangspunktet, men studenter med kildekritikk og skjult argumentasjon på timeplanen må kunne være kritiske. Mange av disse autoritetene legger tvilsomme prinsipper til grunn når de beskriver nettjournalistikkens fremtid. De antar at skjermkvalitet, datamaskinenes kapasitet og hastighet og ikke minst medievanene til folk flest, vil forbli uendret fra nå av. Med Christensens ord: de tror ikke ballen flytter seg mer, så nå blir de stående.
Gode journalister ser på utfordringer som muligheter. Mine klassekamerater lurer på hvorfor jeg vil bli nettjournalist. Nettavis er jo stressende. Jeg er uenig. Ingenting stresser meg mer enn å vite at papirutgaven er trykket og at det er for sent å gjøre endringer i teksten. Som journalister bør vi omstille oss til nettarbeid, ikke bare fordi den disruptive teknologien gjør det nødvendig, men fordi nettjournalistikk har mye større potensiale enn papirjournalistikk.
På nettet kan tekstens utseende avhenge av skjermstørrelse, operativsystem og nettleser, for ikke å snakke om hvorvidt leseren bruker rss, e-post-abonnement, eller tradisjonell nettavis for å lese saken. Vi kan tenke at nettet fratar avisen kontrollen over layout. Vi kan også tenke at nettet åpner for bedre tilpasning av teksten til leseren. Vil hun lese bare den korte oppsummeringssaken, eller vil hun ha oversikt over alt avisen har skrevet om temaet tidligere? Vil hun konsentrere seg om teksten i reisereportasjen, eller vil hun laste ned det store panoramabilde med zoom-funksjon og linker? At tekstformidling frigjøres fra antall sider er kanskje skummelt, men det er først og fremst bra.
Gode journalister skriver uansett. Hvis Julie, mine medstudenter og jeg gir opp skrivingen fordi teknologien og økonomien endrer seg, ja, da har pessimistene helt rett: det er ikke for sent å velge et annet yrke. Så lenge vi skriver godt, og skriver uansett, er det ikke for sent å bli journalist.
Opprinnelig publisert i Journalen.
Bør forøvrig presisere: Flere av temaene jeg etterlyser diskusjon om, har blitt forelest om for Oslos journaliststudenter. Jeg vet at i hvert fall noen på HiO prøver. Takk for det.
Posted by Julie at 10:29 PM | Comments (7) | TrackBack
March 3, 2009
Who will pay for free news? Link collection
After writing an article in Norwegian about the economics of online news, I have a collection of links. Some were directly quoted and included in the post with the article, some were just used for background information, and some have been provided in the comments to the blog version of the article. They're all interesting (in my opinion) contributions to the discussion of how journalism can survive economically if news is free.
Consider this list a constant work in progress...
English:
Norwegian:
Etter nyhetsreportasjen "Gratis nyheter har en pris" har jeg en samling linker til stoff om nettaviser, presseøkonomi, pressestøtte, avisdød og den generelle debatten om hvem som skal betale for at nyheter er gratis.
Posted by Julie at 8:19 PM | TrackBack
March 2, 2009
Gratis nyheter har en pris
Sagt og skrevet om nettaviser:
"Papiravisene må død, men journalistikken må reddes." - Anders Brenna, nettsjef i Teknisk Ukeblad.

"Å ta betalt for innhold tvinger disiplin på journalistene: de må produsere ting folk setter pris på." - Walter Isaacson, president i Aspen Institute, tidligere CEO i CNN og tidligere redaktør i TIME.

"Jeg kan vanskelig se at journalistikkens legitimitet skal være forankret i hvem som sender faktura for distribusjon." - Arne Krumsvik, ytringsfrihetsforsker og foreleser i medieøkonomi.

"En slik snyltermodell er i lengden ikke bærekraftig, og det er de første tegnene på det vi ser nå." - Jan Olav Egeland, kommentator i Dagbladet.
Nettaviser får verken pressestøtte eller abonnementsinntekter. Hvis nyheter skal være gratis, må noen likevel betale.
(Nyhetsreportasje opprinnelig skrevet for skolen, PDF med opprinnelig layout her)
- Jeg leser at det ikke går så dårlig med Klassekampen økonomisk.
- Det er fordi vi ikke satser på nett!
Jeg er på kontoret til Klassekampens redaktør Bjørgulv Braanen, dagen etter at Mediebedriftenes Landsforening la frem opplags- og lesertallene for 2008. Klassekampens opplag vokste med 6,3 prosent.
Braanen er sikker: satsing på klassekampen.no ville vært en trussel mot Klassekampens opplag. Likevel har han gått med på å bruke litt av lunsjpausen sin på å diskutere nettaviser. Han spiser fiskekaker og banan på et kontor fullt av papir i både bok- og avisform, mens han forklarer at han ikke vil bruke årsverk på å publisere avisstoff på nettet. For hvem skulle betalt for avisen hvis han ga den bort gratis?
Plutselig blir jeg litt usikker. Mens jeg ventet på Braanen, bladde jeg i dagens eksemplar av Klassekampen. Og den hadde jeg tenkt til å ta med meg videre, helt gratis. Er det greit?
Nyheter er gratis
- Ja, ville Anders Brenna sagt. 
Han er Teknisk Ukeblads nye nettsjef. Mens kontoret hans fortsatt er helt tomt, har han rukket å opprette en bedriftsblogg hvor det står med fet skrift: "Nyheter er gratis. De bør være gratis, og de vil alltid være gratis."
For Brenna handler det ikke om idealisme:
Hvis du ikke gir leserne gratis nyheter, vil konkurrenten gjøre det. Og da er det for sent.
I en kommentar i Dagbladet 7. februar skrev John Olav Egeland at det virkelig er i ferd med å bli for sent: Mens vi krangler om forskjellen mellom papir og skjerm, har avisbransjen snublet inn i en forretningsmodell nesten uten inntekter. For hvis nyheter er gratis, hvem skal betale?
Tallene til Mediebedriftenes Landsforening viser en samlet tilbakegang for norske aviser på 2,8 prosent i 2008, med en spesielt kraftig nedgang for VG og Dagbladet. Åtte av ti mediehus planlegger store kostnadskutt i 2009. I USA er situasjonen minst like kritisk: Amerikanske kommentatorer lurer på om selveste New York Times vil være konkurs innen mai.
Tenke nytt – eller gammelt
Per Edgar Kokkvold, generalsekretær i Norsk Presseforbund, ønsker en egen krisepakke til mediene. Da E24.no skrev om Kokkvolds utspill, svarte en anonym leser i kommentarfeltet:
"Pressestøtten er jo egentlig en form for permanent krisepakke, så når avisene ikke klarer seg med den bør de vel begynne å tenke nytt."
Alternativet er at noen tenker gammelt: at nød lærer nakne aviser å ta betalt for journalistikk, også på nettet.
- Dagens nettaviser er ikke verdt å betale for, men jeg tror de blir det. Men vi konkurrerer med papiraviser som har alle fordeler unntatt fremtiden, sier Brenna, mens han publiserer et blogginnlegg mellom setningene.
Kontoret til Teknisk Ukeblads nye nettsjef inneholder foreløpig én kopp kaffe, en bitteliten bærbar datamaskin, en mobiltelefon med stor nok skjerm til at den fungerer til nyhetslesing – og en svært entusiastisk nettsjef Brenna. Teknisk Ukeblad har både papirblad, gratis nettsider og blogg, og opplaget økte i 2008.
Brenna forklarer hvordan papirutgaven og nettet kan virke sammen: En økonomisk sak i papirutgaven blir fulgt opp av en oppfordring til bloggere om å fortsette selvstendig gravejournalistikk. Så oppdateres saken på nettet, og debatten fortsetter på bloggen.
Slutt med papirstøtte
- Papiravisene må dø, men journalistikken må reddes, sier Brenna, før han legger til at det kanskje var et litt arrogant utsagn.
Han foreslår å gi papiravisene en fem års frist, der pressestøtten trappes ned med 20 prosent hvert år – og flyttes til nettmedier. Dermed kan nettet få penger i fasen frem til nye forretningsmodeller blir bærekraftige.
- Alle er enige om at nettaviser ikke er økonomisk bærekraftige i dag, sier Brenna.
I dag finansieres nettaviser utelukkende av annonser, mens papir også har abonnementsinntekter og – hvis de trenger det – pressestøtte. I sin kommentar i Dagbladet, kaller Egeland nettavisenes forretningsmodell med gratis nyheter en "snyltermodell". Han siterer amerikanske studier som viser at det må ti nettbrukere til for å erstatte én papiravisabonnent.
Samtidig er det billigere å lage nettavis. Ifølge Arne Krumsvik, som underviser i medieøkonomi på BI, tilsvarer stort sett abonnementsinntektene kostnadene ved trykking og distribusjon.
Pressestøtte til nettaviser har knapt blitt diskutert i Norge, men Sverige har allerede brukt 365 000 svenske kroner på støtte til nettmedier, i følge Journalisten. I 2006 konkluderte den svenske utredningen «Mångfald och räckvidd» at aviser burde kunne få støtte enten de ble distribuert elektronisk eller på papir.
På sitt kontor mener Klassekampens redaktør Braanen at avisen hans trenger både pressestøtte og papir:
- Nettet er annonsefinansiert, og målet er flest mulig klikkere. Klassekampen er et opposisjonelt prosjekt som ikke henvender seg til alle. Forutsetningen er at vi kan ta oss betalt. Slik nettet er nå, passer det ikke med vår forretningsmodell, sier Braanen.
- Du sier "slik nettet er nå" - kunne nettet vært annerledes, slik at det hadde gått?
- Hvis det var vanlig at aviser på nettet var abonnementsfinansiert, ville vi kunne opprettholde inntektene, sier Braanen.
Kampen for betalende lesere
Svenske nettaviser som vil ha støtte på samme måte som papiravisene, må selge abonnement. Det er ikke lett å selge noe som lesere er vant til å få gratis.
I USA trekkes Wall Street Journal frem som et eksempel: Nettavisen deres kan bare leses med abonnement, og avisen tjener penger.
Helge Øgrim, redaktør i Journalisten, advarer imidlertid norske aviser mot å herme etter Wall Street Journal:
"De som prøver, vil se nett-trafikken falle med 80-90 prosent straks," spår han på sin blogg.
Wall Street Journal er en nisjeavis, i likhet med Teknisk Ukeblad, Klassekampen, og andre opplagsvinnere som Dagens Næringsliv og Morgenbladet. Øgrim beskriver nisjene som unntaket, ikke regelen i avisbransjen:
"De norske avisene kan ikke herme WSJ [Wall Street Journal] med mindre alle gjør det samtidig, helst globalt." skriver Øgrim.
Dermed er vi tilbake til Brennas utgangspunkt: Så lenge noen tilbyr gratis nyheter, må alle gjøre det.
Støtten som den svenske stat foreløpig har delt ut, gikk til 12 spesifikke nettprosjekter. Den er mer et engangs kulturtiltak enn en systematisk og varig støtte.
Braanen ønsker ikke en slik støtte til en eventuell nettversjon av Klassekampen. Han vil ikke at avisen skal være et passivt, statsstøttet prosjekt på nettet:
- Det vakre med aviser som Klassekampen ligger i den kompliserte markedssituasjonen vi er i. Selv med pressestøtte, er vi svært konkurranseutsatt. Dynamikken handler om kampen for å få folk til å betale.
Avis på lesebrett
- Hvis jeg styrte Schibsted, ville jeg gitt en gratis Kindle til alle abonnenter som binder seg til Aftenposten i tre år. Så ville jeg sagt: "Gi oss tre år på å finne en ny forretningsmodell."
På utestedet Blå i Oslo er det pause i debatten om bokens fremtid. Carl Størmer er her for å snakke om den elektroniske bokleseren Kindle. Han har fått svart maling på hendene fra en nymalt søyle på Blås scene, men han har ikke tid til å vaske det bort. Det er for mange som vil se på Kindle-en. Etter at han diskret har tørket hendene på en svart gardin, trekker Størmer frem e-bokleseren han alltid har med seg.
Med en Kindle, som veier omtrent det samme som en gjennomsnittlig innbundet roman, kan man ikke bare lese tekst, men også kjøpe bøker og aviser. Størmer blogger på norsk og engelsk, driver konsulentselskap der han bruker jazz til å lære forretningsfolk å improvisere, og foretrekker å lese aviser på Kindle.
Siden norske aviser ikke bruker Kindles system, har Størmer sluttet å lese norske aviser.
Hver morgen laster han heller ned dagens utgave av New York Times. Han betaler 12 dollar i måneden, altså ca. 85 norske kroner. Til sammenligning koster Aftenposten 283 kr for et komplett månedsabonnement – vel å merke hvis man bor i Oslo. Størmer pendler mellom USA og Norge, og ønsker samme tilgang til nyheter overalt.
Ikke gratis likevel?
Vent litt - Størmer betaler for avis på skjerm. Trenger ikke nettavis å være gratis likevel?
Kanskje ikke. Folk betaler for sms, selv om e-post er gratis, fordi de behandler mobiltelefoner som noe annet enn datamaskiner. Kindle har vist at i hvert fall noen lesere er villige til å betale for elektroniske versjoner av aviser, hvis de får nyhetene på noe som er kjempebærbart, behagelig å lese på, og ikke minst annonsefritt.
"Kindle er en skikkelig killer for avisens forretningsmodell fordi den ikke har reklame (herlig)." skriver Størmer på sin blogg.
Han er ikke den eneste som anbefaler aviser å satse på Kindle. Journalist Nicholas Carlson regnet ut at New York Times kunne tjene på å kutte ut papirleddet og heller sende abonnenter hver sin gratis Kindle.
Aftenposten-journalist Per Kristian Bjørkeng er også på e-bokdebatt. Han har med seg en iRex, en e-bokleser som, i motsetning til Kindle, er tilgjengelig i Norge. Bjørkeng tror e-bokteknologien kan gjøre mer for avisbransjen enn forlagsbransjen, i hvert fall på kort sikt:
- Slik teknologi er en av de få mulighetene avisen har på kort sikt til å tjene penger på innhold. Helhetsopplevelsen er så bra at folk betaler for den – selv om nettaviser er gratis, sier Bjørkeng.
Papir setter agendaen
Nettsjef Brenna er klar over at ikke alle har den samme troen som ham på at skjerm er bedre enn papir:
- Forsidene på papirstativene setter agendaen, sier han.
- Fjerner du det fysiske produktet vil det på en måte redusere avisenes betydning, enten alternativet er e-bokskjerm eller pc-skjerm, mener Klassekampens redaktør Braanen. Han synes Kindle høres supert ut, men samtidig er han en av mange som rett og slett liker papir.
På scenen til Blå sammenligner Størmer papir og nett med hest og bil: man kan like lukten av hest, men man kjører likevel bil når man skal fra a til b. Poenget er at man uansett flytter på seg, det vil si at det uansett finnes journalistikk. Eller som Størmer sier:
- Det vil alltid være en som leser. Det vil alltid være en som skriver. Det i midten forandrer seg.
Jeg tar med meg avisen i det jeg forlater Klassekampens kontorer. Bjørgulv Braanen taper ikke på det. Som journaliststudent har jeg tross alt gratis nyheter på a-tekst.
Tekst og foto: Julie Ragnhild Andersen.
Skrevet som skoleoppgave i journalistikk, Høgskolen i Oslo, februar 2009
Posted by Julie at 11:51 PM | Comments (3) | TrackBack
February 23, 2009
Hvordan ikke bli skrevet om på nett
Via intern-nettsiden til Høgskolen i Oslo finner jeg ut at det skal være "morgenbokbad" med lansering av en ny bok om nettskriving. Ove Dalen har skrevet "Effektiv nettskriving", og den lanseres på min skole! Fint! Det står så mye rart om nettskriving i journalistikkstudentenes pensum, så dette var på tide! Jeg skal SÅ på bokbad, og jeg skal SÅ blogge.
Eller ikke.
Arrangementet er fullt, og det ville uansett kostet meg 300 kr å komme inn.
300 kr for å få 10 % rabatt på en bok til 398? Ja, det er tydeligvis noen som synes det er en god deal.
Posted by Julie at 11:43 PM | Comments (1) | TrackBack
February 10, 2009
General update
1. I have a new job as editor of the Opinion section of Oslostudenten, a monthly newspaper at my university college. The job includes being in charge of foreign correspondents. More on that later.
2. Starting May 4th, I have an internship at Teknisk Ukeblad. They're a weekly tech/IT/business/economics magazine, plus they have a website that doesn't annoy me. I'll be working both online and in print, and I'm looking forward to it.
3. I started taking French classes again. This means I'm spending a couple hours every Wednesday talking about current events with people twice my age. Basically nothing unusual, except it's in French.
4. I renewed my gym membership today. Go me!
5. I haven't slept a full night at night in 2009.
Posted by Julie at 10:58 PM | Comments (6) | TrackBack
January 22, 2009
Ingen sitatsjekk
Sitatsjekk er for pingler, skriver Anders Brenna. Her er noen utdrag:
"Når man skriver ordrett ned hva folk har sagt, slås man av hvor mye usammenhengende babling som kommer ut av norske eksperter, politikere og andre forståsegpåere. Hvis vi konsekvent hadde skrevet ned sitatene ordrett slik de ble uttalt, så ville nesten ethvert intervjuobjekt fremstått som en komplett idiot.
Endring av avgitte uttalelser bør begrenses til korrigering av faktiske feil. Ingen uten redaksjonell myndighet kan gripe inn i redigering og presentasjon av redaksjonelt materiale. (Vær-Varsom-plakaten)

Ordet "bør" kan i denne sammenheng ses på omtrent som ordet brukes i grunnlovens paragraf 100: "Ytringsfrihed bør finde Sted." Det betyr at retten til å få endret uttalelser i ettertid begrenses til korrigeringer av faktiske feil. Dette er en forskjell fra tidligere utgaver av Vær Varsom Plakaten. Tidligere kunne politikere gå gjennom sitatene og slette de som de i ettertid skjønte at falt uheldig ut. Det resulterte i tamme artikler, og tannløse politikere.

Problemet med sitatsjekk på absolutt alt er at det spiser opp mye av tiden til journalistene, og at det forsinker saker som med fordel kan publiseres fortløpende i en nettbasert verden. Mange vil sikkert mene at det ikke gjør noe, og at kvaliteten blir bedre av å vente litt, men det er ikke tilfelle. Det er ingen grunn til at en sak blir bedre av at journalister må sitte og vente på kildene.
Gode kommunikatører kommuniserer. Oi, den var sikkert vanskelig. Vi tar den en gang til: Gode kommunikatører kommuniserer.

De bruker ikke tiden på å stoppe kommunikasjonen eller på flisespikking. De stiller godt forberedt og sier det de ønsker å si. Av og til bommer de litt, men det tåler de godt. Ingen statsråd har måtte gå på grunn av en feilsitering. Det har heller ingen bedriftsleder gjort. Ja, i noen tilfeller har det vært nødvendig med en ryddejobb etterpå, men det er en mulighet - ikke en trussel."
- Anders Brenna

Oppdatert 30.01.2009: Anders Brenna fortsetter diskusjonen om sitatsjekk på bloggen til Norway's online news association (NONA).
Posted by Julie at 11:26 AM | Comments (2) | TrackBack
December 23, 2008
Blogging every day
I have tried to blog every single day this month. Partly because I love traditions, and this was a variation of counting down the days until Christmas. And partly to see if I could do it. I almost succeeded, although I was wrongfully accused of cheating once, and I actually cheated once. And I even got carried away and blogged too much.
My dad blogged every day in January. He wrote he was beginning to understand how journalists feel, but that blogging every day was very time-consuming. My problem was usually that having to blog something - anything - every 24 hours got in the way of writing longer, more complete posts. Ideally, I should blog often and well, but if I have to choose between the two, I would prefer to blog really well. Something interesting a few times a week, rather than rubbish twice a day. On days when I spend a lot of time online, it's easy to just link to something and add a short comment. But days away from my laptop are a nice change, and I don't think I should be encouraging myself to spend even more time online. And although I have no problem with publishing works in progress, sometimes I want to make sure I'm happy with something important, even if that means delaying for a day.
However, I have definitely gotten into a new rhythm. I can't promise anything - blog curse and all that - but after forcing myself to post once a day, I should be able to... no, can't tell you, or I won't do it. That's how the blog curse works.
Posted by Julie at 3:19 PM | Comments (1) | TrackBack
December 19, 2008
When I was your age, we had paper
Yesterday I left my keys in what was once the office where I worked as a receptionist. The company is relocating, and I will probably never again set foot in that building where I spent about an hour per day on average - and where I admit, many of my best blog posts were written.
Not only does the specific job I once had literally not exist anymore - there is no desk in the reception, no kitchen for making coffee, no fridge full of soda to organize. But for the past week, I have been doing another job for this company, and I don't think anyone will be doing that kind of job by the time I have children.*
I can just picture it:
When I was your age, people used to store information on paper. Today we know how dangerous fire is, not to mention the dangers of misplacing things without being able to search for them. But way back then, in the basement of the office builidng where I worked, years of paper documents accumulated. Many of them started as computer documents, but because of this belief in the power of paper, people printed everything they thought they might some day like to read. That's right, they didn't like to use the computer for reading either. So even unfinished drafts of documents that might some day be important, were printed, read and then filed just in case anyone ever wanted to read them again. Many of these documents were not important at all, but you never know what might be useful, someday.

Then one day the company I worked for moved to a different office, and they decided they did not want to move all that paper. Suddenly, they realized that the basement full of paper was in fact completely useless to them. But even if they didn't want it, they didn't want anyone else to have it either. There might be interesting information somewhere in that basement, and just in case, it should all remain secret. So they decided it should all be shredded - that's how paper is deleted.

And that's how I earned money for Christmas presents, way back in 2008. I deleted things. I couldn't just click on the room and press shred. My job was to open all the metal and plastic folders, and take the paper out and put it in boxes. Then the boxes were moved to where the shredder was, and the folders were all thrown away. It took about a week.

Yes, for a week, this company paid a journalist to look through all their very important, very secret documents and then throw them away.
I was beginning to think that my prediction of the future office basement - without rows of filing cabinets - was too extreme. Today, while I was shopping with my younger sister, my theory was strengthened. She opened a plastic folder and struggled with the metal clasp on the inside. When I showed her how it worked, she said: "So, you just put the paper inside? Wow."
* And then I shudder. Yup, those words still scare me. I'm not quite a grown-up yet.
Posted by Julie at 7:36 PM | TrackBack
December 10, 2008
"We love learning. We hate school."
Excerpts from the text to go with the video, A vision of students today by Mark Hanson:
One of the most thoughtful and engaged students I have ever met recently confronted a professor about the nuances of some questions on a multiple choice exam. The professor politely explained to the student that he was "overthinking" the questions. What kind of environment is this in which "overthinking" is a problem?
How did institutions designed for learning become so widely hated by people who love learning?

Texting, web-surfing, and iPods are just new versions of passing notes in class, reading novels under the desk, and surreptitiously listening to Walkmans. They are not the problem. They are just the new forms in which we see it. Fortunately, they allow us to see the problem in a new way, and more clearly than ever, if we are willing to pay attention to what they are really saying.

While most of our classrooms were built under the assumption that information is scarce and hard to find, nearly the entire body of human knowledge now flows through and around these rooms in one form or another, ready to be accessed by laptops, cellphones, and iPods. In short, they tell us that our walls no longer mark the boundaries of our classrooms.

And that's what has been wrong all along. Some time ago we started taking our walls too seriously – not just the walls of our classrooms, but also the metaphorical walls that we have constructed around our "subjects," "disciplines," and "courses."
I wish I couldn't relate to this, but I can. When school doesn't command my full attention, my mind wanders - sometimes so far that I miss information from my teachers that I should have gotten. As I wrote here, "I have this theory that if my brain isn't busy enough, it will start searching for something to do." Maybe it's a sign of the times, maybe it's just me. And yes, many students don't concentrate because they can't be bothered. And many students don't work unless the teacher constantly controls them and watches them, and this controlling involves the lazy students actually showing up for class. But these students don't belong in college at all.
I know that I can learn so much more with an Internet connection, a library card and permission to cut class than I can if I go to school every day. If teachers have to force their students to show up to lectures, isn't that a sign that what's happening in the classroom is less than interesting? It's time for a change.
Posted by Julie at 4:51 PM | Comments (1) | TrackBack
December 9, 2008
Window shopping
You may have pennies in your pocket and not a prospect in the world, and only the corner of a leaky bedroom to go home to; but in your new clothes, you can stand on a street corner, indulging in a private daydream of yourself as Marlene Dietrich. - George Orwell, 1937
There is something to be said for retail therapy. It does not work in the long term, but pretty things have an immediate calming effect.
The one time I actually bought something on a retail therapy shopping trip, it was my one (!) pair of painful shoes, and it was after a disastrous macro economics exam. They made my feet bleed, but they're still shiny and low-cut and go with everything (silver and gold goes with everything!)
The safest and most enjoyable window shopping is after the shops close. I recommend Avenue Montaigne at night. But browser-window shopping is more convenient, and still safe if you keep your credit card in another room. And so... some fashion links.
Exactitudes is fascinating. Ari Versluis and Ellie Uyttenbroek have taken on-the-street style photography a step further by collecting photos of people who dress alike. They've given each photo collection, or tribe, a name. And Norwegian D2 asks in this article's title: "What tribe do you belong to?" In 1999, I looked kind of like these girls. My braces had just come off, but I had the pony-tail and the dark, fitted, denim jacket. In 2008, I was a girl living in the seventh - literally a member of the filles du septieme tribe. I guess I did look like these girls - on a bad day. That came out kind of harsh. What I mean is, if two Dutch photographers had stopped me on the street while I was wearing jeans, an open cardigan, a plain top and minimal accessories and make-up, it would be the result of an early-morning class rather than a conscious style choice.
What? More of this stuff? Scarf debating continues. Now it's "keffiyahs" or what everyone I know calls palestinaskjerf. And if they really are back (I gave up on following scarf trends a while ago) then maybe that does deserve some debating. My youngest sister - 14 years old - has two of these, and I don't think she knows what they stand for. At any rate, when I told her, she said: "Well, it's fashion." I realize that symbols change over time, but I think this one is still quite obvious, and that kids who wear them should think about what their clothes are saying. Right?
Lean times and hemlines - Yet another attempt at combining fashion and finance into an article everyone will want to read. I liked this one though. Guardian fashion editor Jess Cartner-Morley looks at fashion and finance history and shows how the connections between them are not always simple. As they say at Some like it fashion, future fashion commentators will describe what we happen to be wearing these days as recession style, whether that makes sense or not. So we might as well decide what that recession style will be. By the way, the Guardian is pretty good at writing fashion articles that are actually interesting, like this one about high heels.
17-year-old Laura in Costa Rica has a list of 37 things to love, made with Polyvore. Pointless? Yes. Time-consuming? Yes. Fun? Yes. Which reminds me...
Clipping to Polyvore is an excellent way to indulge in retail therapy without spending money.
In addition to recommending D2 and The Guardian Fashion here are the style blogs I subscribe to right now:
Posted by Julie at 12:44 AM | Comments (1) | TrackBack
December 5, 2008
Anything paper can do...
... the Internet can do better.
Det ser ikke ut til at jeg har praksisplass på digi.no. Eneste fordel med det er at jeg nå kan linke til utgavesjef Anders Brennas innlegg om nettaviser vs. papiraviser uten at det ser ut som jeg bare smisker.
Papiravisenes eneste fordel er at de er gamle og etablerte. Utover merkevaren som dette gir, så har de ingenting som ikke nettavisene også kan gjøre. Papiravisene har rett og slett ingen ting å lære bort.
Andre journaliststudenter lurer på hvorfor jeg vil jobbe på nett. For et spørsmål. Fordi jeg vil ha jobb i fremtiden selvfølgelig.
Posted by Julie at 12:57 PM | Comments (1) | TrackBack
December 2, 2008
Nothing is off the record
When everyone is a blogger, nothing you say is off the record. A New York-based Belgian blogger and bartender served a politician, got some information and blogged about it. And then she got fired.
News like this starts complicated internal debates about media ethics in my head, but there is no time for a lengthy discussion right now. When I'm doing journalism for school or any publication that isn't my own blog, these rules apply. Blogging however, is not the same thing as journalism. We do not yet have a common set of rules for what is off the record in blogging. We do have common sense (at least the writers worth reading do).
I think of my blog as a snapshot of the part of my mind I allow people to read. And I think the internet is just like real life. And in real life, when you're talking to strangers, you can't really expect things to be off the record.
Off the record is the exception to the general rule. That's why people promise to keep peoples' secrets - doctors don't talk about their patients, friends don't talk about their friends, employees don't give away their companies' secrets, and I've been asked not to blog about things. How many times have you started a conversation with "This is not a secret. Tell someone else if you want."
And like I wrote here, this isn't new. Information is spread faster and further now, but the same principles apply: don't do stupid stuff, and if you must, don't tell strangers about it. Especially if you're a politician. Because - even within "real" journalism - the public has a right to know.
P.S. If I ever open a bar for journalists, I'll call it "Off the Record". What happens there, stays there.
Posted by Julie at 10:27 AM | Comments (2) | TrackBack
November 12, 2008
Blogging SO 2004, according to WIRED
How do you make bloggers write about you and link to you? You do like WIRED: tell them that blogging is a waste of time and that they should stop.
Norwegian free magazine Spirit predicted the death of blogging way back in October 2005. Back then, podcasting was the new way to communicate. I argued that this is like saying books are over because of books-on-tape.
People read, even if they also listen to the radio and watch television. I believe this is true both online and off. And I believe that Twitter, Facebook and blogging are three very different ways of communicating, and that you don't have to choose one over the other.
This got me thinking about why and how I blog these days, and whether this will change as I write more for actual publications.
Posted by Julie at 4:17 PM | TrackBack
November 7, 2008
I write like a man
Apparently, this blog was written by a man. The Gender Analyzer thinks so, at least. This site uses a text analyzer to determine who is behind blogs. I tested my  "Julie in English" category, as well as a few single posts. The result was the same every time: I blog like a man.
The Gender Analyzer only guesses the writer's gender correctly 55% of the time, according to their own poll of people who have used the Analyzer. Even so, I'm really curious as to how the gender is guessed. I mean, my blog is written by a woman, but the domain name belongs to a man, and I've quoted and linked to a lot of men. Even so, I can't understand why my "European bitch" essay about American fashion sense was so very male - thanks to the excerpt from Sarah Turnbull's book, that post was written by two women! Perhaps there is something to Anna's theory in the comments of this post - but if communicating like a guy means I don't say "five minutes" when I mean 45, and I don't say "Nothing's wrong" when I mean "It's all your fault.", then fine. (Really, FINE, and by that I don't mean "shut up").
Posted by Julie at 4:01 PM | TrackBack
February 26, 2008
Sadness
The worst thing about only having internet access in school buildings? It is not socially acceptable to cry in the school library, no matter how much you want to.
I highly recommend the blog where I read this story, and by the way, I am not the Julie who wrote the first comment.

Posted by Julie at 6:54 PM | TrackBack
November 7, 2007
"A brief history of record industry suicide"
Read this. It's a comment on the music industry after the music site Oink was shut down. Although I never used Oink myself, I've been meaning to write something about these issues for a while. Luckily someone saved me the time by writing something I agree with.
Here's a quote:
"Oink was not only an absolute paradise for music fans, but it was unquestionably the most complete and most efficient music distribution model the world has ever known. I say that safely without exaggeration. It was like the world's largest music store, whose vastly superior selection and distribution was entirely stocked, supplied, organized, and expanded upon by its own consumers. If the music industry had found a way to capitalize on the power, devotion, and innovation of its own fans the way Oink did, it would be thriving right now instead of withering. If intellectual property laws didn't make Oink illegal, the site's creator would be the new Steve Jobs right now. He would have revolutionized music distribution. Instead, he's a criminal, simply for finding the best way to fill rising consumer demand. I would have gladly paid a large monthly fee for a legal service as good as Oink - but none existed, because the music industry could never set aside their own greed and corporate bullshit to make it happen."
Related posts:
Posted by Julie at 12:48 AM | TrackBack
November 6, 2007
Rant on technology and manners
People who rant about technology and manners usually annoy me. I'm talking about the bookstore employee with the obnoxious-sounding voice who wouldn't let me use a cell phone near the entrance of her store, or the people in front of me at a conference on information technology who told me: "You know, the sound of your typing is sort of distracting." The basic theory of these people is that using cell phones and computers is essentially private and for the fun of it, and therefore rude in public. This is absolutely ridiculous. (Or as Kristiane writes in Norwegian, it's so 2003.)
Slightly less ridiculous is the idea that communication technology can be stressful because it forces us to be perpetually available to anyone who has our contact information. This idea makes people turn their phones off, only check their e-mail during weekdays, and relish the lack of internet connection in their vacation homes. This can be extremely stressful to the people who need to get in touch with them, but sometimes people just need a break, right? As usual, the problem is not e-mail or text messaging in itself, but the fact that our habits and our rules of decent behaviour haven't caught up with the changes in technology.
Ok, where's the rant? Is this really me being angry?
See, that's the whole point. This issue doesn't make me rage, but maybe it should. Someone once told me that in this information technology age, if the sound of your own cellphone ringtone makes you stressed instead of excited, and if checking your e-mail and seeing no new messages is a relief rather than a disapointment, then you know you've grown up. I guess I have.
I don't currently have a stalker, a demanding job or particularly needy friends. But somehow, all the little messages and questions and requests seem to add up to a full-time job (which I do in addition to full-time studies and part-time receptionist work) as a combination of secretary, therapist, event planner, student guidance counselor, tutor, mediator and research assistant to everyone I know. Because I'm such a language geek that I genuinely want to proof-read your essay. As long as I'm taking notes in class, I might as well e-mail you a copy. I know everyone who's going on this trip, so it makes sense that I coordinate things. Yes, I do know the address of that restaurant. Don't worry, everything will be ok, but I'm here for you if you need to talk. I would love to have coffee with you. You know, I read about that somewhere - I'll send you a link.
I do know that I'm not the only one who feels this way, but I don't know exactly how to stop this. And I really don't think that turning off my cellphone and going into some sort of hermit-like existence whenever I want to relax is a healthy or polite way. I really believe that if you publish your e-mail address somewhere, you should check it regularly, and answer people, and that if you have a cellphone, people who have your number should be allowed to call.
But maybe it's time I set a few rules:
If I've already e-mailed you something, you have the information. You're welcome by the way. I'm not sending it again. I'm not printing it out for you. I don't necessarily have the info in my head, so I won't repeat it if you call. If you choose to have an e-mail system that doesn't let you search or archive things so that you find them again, I highly recommend gmail.

If I don't answer the phone, send me a text message. I'm probably in the library. I'm always in the library (nerd, remember?)

I don't like paper. I don't like printing things. Just accept that.

Try Google before you ask me. I once got a call from a classmate about something, and when I suggested Google Scholar, she called me an angel and a lifesaver. Seriously.

I really feel that a short, "rude" answer along the lines of: "This really is not my problem; I don't have time to help you." is much more considerate than just ignoring e-mails or texts with direct questions for weeks. I follow this rule myself. Don't take it personally.

When I leave a party "early", there's a reason for this. I really do want to stay for one more dance or one more drink. Please don't tempt me. I am human, and I need sleep.

(Or comment on the blog, which is essentially the same thing. You can even tell me not to publish the comment, which makes commenting the exact same thing. Except that

this guy

is able to read unpublished comments, so beware.)
Posted by Julie at 4:02 PM | TrackBack
October 22, 2007
Før du eventuelt kjøper Sony Ericsson T250i fra xd.no...
Anna sliter med både Sony Ericsson og nettstedet xd.no, og hun prøver å bruke bloggerens makt. Jeg har etterhvert sett at jeg kommer skummelt høyt opp på søkemotorer, slik at hva jeg skriver om ting faktisk kan tenkes å nå lesere jeg ikke kjenner personlig. Og jeg vet at kommentarer som denne kan gi resultater som dette. Derfor tenker jeg at all linking hjelper.

Så før du kjøper Sony Ericsson T250i fra xd.no, les dette.

Posted by Julie at 9:52 PM | TrackBack
October 19, 2007
Wikipedia
I have sat through my last mandatory "how-to-write-a-political-science-paper" class! And to celebrate: "The Wikipedia Gap". I couldn't have said it better myself.
That won't stop me from adding a few of my own comments:
In every one of these usually tedious classes, the question of using Wikipedia in term papers has come up. In general, we are usually warned to be careful with any net-based source and more or less forbidden to use Wikipedia. The reason for this is supposedly that Wikipedia is not written by experts, so it's likely to be wrong. My answer is that Wikipedia is written by experts - that's the whole point. People write about their own home towns, hobbies and obsessions - all their little areas of expertise. And mistakes are corrected. The reason not to referr to Wikipedia in university papers is that it's an encyclopedia. It's very basic. Most of the information you can find there can also be found in other more detailed documents (books, studies, specialized web sites) and if you are serious about researching something, you look further than the encyclopedia. In my opinion, (and the vast majority of people who write and edit books seem to agree with me), there is no need to write a source reference when you state basic facts like capital cities and dates. Even if you didn't know it before you read it somewhere, anything that Google will tell you 500 million times in half a second is common knowledge. Yet we're still told to write "(Author Year:page number)" after practically every sentence in every term paper. The point of referring to where you got information, is so that the reader can learn more by checking out your original source or check up on your original source if they think you're wrong. No reader is going to think: "Wow, Alexis de Tocqueville was born in 1805?!? That's fascinating - I must go to http://en.wikipedia.org/wiki/Tocqueville to learn more!"
I got this article from my dad, and I'd like to repeat one of the comments to his post, which continues the discussion in a slightly different direction:
"Problemet i skulen er altså ikkje å få aksept for bruken av IKT, og fleire skular nyttar i stor grad kjelder frå kollektive kunnskapssamfunn, og tar det inn over seg som eit viktig ledd i danninga av elevane. Problemet er at ein ikkje får uttelling for slikt arbeid når kunnskapen skal målast. Kan skjøne ein vil kome til å konkludere med at IKT-satsinga i skulen er fånyttes, sidan ein på eksamenar og prøvar ikkje vil sjå merkbare resultat?"
Basically, schools (including most departments at the University of Oslo) use IT for everything except evaluating what students have learned. The result is that students of International Studies are literally asked to solve the problem of the Middle East by sitting alone with a piece of paper and a pencil for four hours.
Posted by Julie at 4:19 PM | TrackBack
October 16, 2007
Hvorfor er jeg så populær plutselig?
Man kan lære mye av å ha Statcounter, som blant annet viser hvordan folk finner siden din. Sprøtt. Lurer på hvor lenge dette varer.
Posted by Julie at 9:16 PM | TrackBack
October 12, 2007
Blogging har en funksjon likevel
Hjorthen forklarer hvorfor blogging er nyttig (les først her, i hvert fall hvis du ikke er vant til å lese Hjorthen)
Posted by Julie at 12:36 AM | TrackBack
September 14, 2007
Dobbeltnerding
Internasjonal politikk og podcasting i samme link! Utviklingsminister Erik Solheim og tidligere generalsekretær i FN Kofi Annan har lagt ut podcast. Dette blir første del av en serie der Solheim tar ukentlige telefonsamtaler om aktuelle temaer. Og det er mulig å abonnere.
Posted by Julie at 4:51 PM | TrackBack
September 13, 2007
Think before you act
This week I received an e-mail from the student government telling me that someone had contacted them, wanting me to remove something from my blog.
I was curious and a little nervous at first, and then vaguely annoyed when I found out what it was all about: someone wanted me to remove a comment because of (in this person's own words) "a pathetic attempt to remove myself from the internet." There was nothing incriminating in the comment - the only thing a reader would find out about the commentor was that he/she liked my blog without knowing me personally.
Although this incident was really minor, I suppose it does set a precedent for how I should handle this kind of stuff in the future. And I must admit that my gut feeling was annoyance. Commenting a blog is like talking to the blogger in real life. Once you've said something to someone, you can't really unsay it. You can tell them to stop telling other people that you said it, which I guess is what this person did to me. You can insist on getting credit for your brilliant thoughts. But if you regret having said something in real life, then, well, that's life.
I feel like I'm constantly telling people this to no avail, but (drum roll) the internet is just like real life. Facebook doesn't change who your friends are, cruelty is still cruelty, and once you've said something, it's out there. Both literally, because of internet tools like Bloglines and web.archive.org (see comments to this post), but also in peoples' minds. Once someone knows that you went to that party, or that you agree with that political blogger, no amount of de-tagging or comment-deleting will save you.
The obvious solution is to think before you act. I've discussed this with friends who claim that there is a difference between how you are expected to act in private and how you are expected to act in public, and that no one has the right to force anyone else to mix the two. This is sort of true. I agree that no one has the right to upload drunken photos of you, but I still believe that the easiest solution to this problem is to avoid passing out in your own vomit when there are cameras in the room. That, and only getting drunk with people you actually trust. And if you think about it, in the good old days before the internet, people still managed to know all the weekend gossip by lunch on Monday anyway. People in China didn't find out, but did you really care what people in China knew about your drunkenness? And do you really care now?
And all this whining about potential employers googling you? What are people really afraid of? I can just picture it: "You know, this woman has an excellent education, interesting work experience and great recomendations, but she used to write comments on a fashion blog, so she's clearly not serious enough for this company." or "I hear that when this man was in his early twenties, he used to go out with his college friends and (gasp!) drink beer! We couldn't possibly hire someone like that." Or maybe: "I know she's really qualified for the job, and she's beautiful too by the way, but in this one photo I found on Facebook, she was having a really bad hair day."
However, if you insist, I guess I'll humor you. I have now removed the person's name, e-mail and website from this site.
Posted by Julie at 3:06 PM | Comments (2) | TrackBack
August 15, 2007
Lukket vindu
Bloggen Gjennom Vinduet blir ikke oppdatert lenger. Dette er trist i seg selv, men det verste er at gamle innlegg er blitt fjernet. Til og med innlegg jeg har linket til. Jeg glemmer helt at det jeg leser ikke er mitt, at han som har skrevet dette tross alt har rett til å slette sine egne ord så mye han bare vil. Men det minner meg på at jeg bør lagre det jeg finner på nettet som jeg av en eller annen grunn kan komme til å ville lese igjen senere. For det varer ikke nødvendigvis evig ellers.
Posted by Julie at 12:01 AM | Comments (4) | TrackBack
August 9, 2007
Yet another reason not to like the current American president.

(What a good post... shoes and politics at once! If only it were good shoes combined with good politics... )

Posted by Julie at 1:00 AM | TrackBack
July 24, 2007
Bloggtips
Jeg har linket til History matters! før, fra en "This Week", men bloggen til Ingar er fortsatt bra. Jeg har etterhvert lært meg at hvis jeg maser på potensielle bloggere, skriver de ingenting. Derfor ventet jeg lenge på at min tidligere lærer skulle begynne å blogge helt av seg selv - og jeg er svært fornøyd med resultatet.
Han beskriver seg selv som "Gammel kyniker men unntaksvis entusiastisk", og legger ut liste over bøker han leser og har lest (akkurat som meg! Imitation is the sincerest form of flattery). Og han kan virke ganske bitter når han skriver om motstand mot premiering av flinke elever:
"Norge er dilletanteriets høyborg. Middelmådighetens alter. Her ligger jantelovens hellige gral. Norge er landet hvor det er flaut å være god (bortsett fra på skøyter, da). Norge er landet der vi dyrker løpskonkurranser med idealtid! (Gå i bokhylla di og finn fram Roy Jacobsens praktfulle roman Seierherrene og les på nytt den uforglemmelige beretningen om terrengløpet på sommerleiren!)"
Men det er behagelig at noen andre skriver det for meg. Dessuten greier han å skrive morsomt, men alvorlig om diverse samfunnsfaglige spørsmål. Om våre forventninger om at myndighetene alltid skal ordne opp:
"Tankeeksperiment: Hvis jeg ville ha barn, men ikke fant en kvinne jeg kunne tenke meg å få barn med - ville jeg da vært ufrivillig barnløs? (...) Måtte samfunnet da ha ilt til min unnsetning og kurert min diagnostiserte tilstand? (Her stopper det opp litt for meg - jeg blir liksom sittende og drømme meg bort. Kunne helse- og omsorgsministeren mobilisert sitt enorme hjelpeapparat og løst problemet for meg? Er det mulig å antyde preferanser i retning av Julia Roberts, for eksempel??)"
Kort sagt: anbefales!

Posted by Julie at 5:44 AM | TrackBack
May 23, 2007
Pappa er ikke på Facebook
... og det er en forsidesak for e24.
Her er hele saken (inkludert en link til denne siden).

Posted by Julie at 11:22 AM | Comments (3) | TrackBack
May 14, 2007
Playlist
Last.fm is fun. I have some criticism, mainly:
I don't like the idea of organizing music by tag. At all. I especially don't like tagging artists by which country they are from. How is that relevant to how the music actually sounds? The beauty of Pandora is (was, sniff) that I could find music that sounded like music I liked, regardless of stuff like decades. Not music made by people from the same town as an artist I like one song from.

What is not indie? I thought I could use this tag system to find out what people think indie means, since last.fm is so democratic and stuff. But practically everything I like is tagged indie, and I don't even know what it means! That doesn't make sense.

On the other hand, you can make playlists and put them on your website. So I did. I had to have 15 different artists, but most of the songs fit into the same mood - at least in my mind, but as my little sister tells me twice a day, I am so weird. So there is an idea behind the choice of songs, but I doubt I'll be able to explain it.

Posted by Julie at 10:00 PM | Comments (5) | TrackBack
May 8, 2007
Ingen logikk 2
I serien "fakulteter oppfører seg motsatt av forventet": Universitetsbiblioteket kan få tilsendt bøker fra hele landet som jeg bestiller over nettet, og så får jeg mail om at boken min er kommet og jeg blir glad. Men informatikkbiblioteket, ja, informatikk legger ikke en gang ut kart over hvor i hyllene bøkene er.
Jeg hører også fra Heidi at medievitenskapstudentene ikke får ordentlig informasjon. Så medievitenskap er dårlig på å gi informasjon, informatikk er dårlig (relativt) på internett, økonomisk er dårlig på effektivitet, men hf er bra på laptoptilrettelegging. Godt å se at man ikke tilpasser seg folks stereotype forventninger.
Posted by Julie at 9:38 PM | Comments (4) | TrackBack
May 6, 2007
Det eneste du trenger å vite om Facebook
Jeg er så lei av å snakke om dette at jeg ikke helt hvorfor jeg skriver om det. Det er imidlertid slik at det ofte hjelper meg å skrive ned ting som jeg ikke ønsker å tenke på. Derfor noterer jeg her det jeg tenker om dette som jeg er lei av å høre om. Her er det jeg tenker om... ja, jeg blir nødt til å faktisk skrive det: Facebook.
Det er ikke nytt. Facebook i seg selv er gammelt; det er bare vi nordmenn som har vært litt trege. Dessuten har det eksistert lignende nettverkssider, som f.eks. LinkedIn enda lengre. Og russesidene var som Facebook, men bare for russ, så vidt jeg husker.

Det forandrer ikke mennesker. Nettverksbygging, overfladiske vennskap, ekskludering, baksnakking og sladring har alltid eksistert og vil alltid eksistere, men nå er det litt mer synlig.
Facebook er ikke et nettverk. "Facebook og andre sosiale nettverk" skriver Kathrine Aspaas, og " "social networking fatigue" - en slags utmattelse av det å forholde seg til mange sosiale nettverk på en gang." Men Facebook er et verktøy for å forholde seg til eksisterende nettverk.

Vi er fortsatt venner med de samme menneskene. At man er friends betyr ikke nødvendigvis at man omgåes på ordentlig. Hvis du ikke har snakket med noen de siste åtte årene, hvorfor skal du egentlig gjøre det nå? Det kan være artig - for deg selv, kortvarig - å undre seg over hvordan man egentlig møtte folk man føler at man alltid har kjent (We met randomly when we were four) eller en gang kjente (We hooked up? We dated? Skip this step.) Men så spennende er det ikke.

Det sier ingenting om "ungdommen nå til dags" som du ikke kunne funnet ut ved å snakke med en av dem. Vi får ikke nye interesser fordi vi blir medlem av nye grupper for eksempel.

Common sense gjelder fortsatt. Hvis du ikke vil at "third parties", potensielle arbeidsgivere, foreldrene dine, stalkers etc. skal finne ut hvem du er i et "complicated" forhold med eller hvilket kjønn du er "interested" i eller hva dine "political views" er, så ikke legg det ut på nettet da, din idiot!
Facebook er ikke mer skummelt for ditt gode rykte enn resten av Internett. Det er mange andre steder folk kan legge ut stygge bilder av deg. Og Google (en nettside som har forandret ting) gjør det lett å finne dette, enten du er på Facebook eller ikke. Sorry.

Det kan være nyttig. Jeg kan sende beskjeder til folk som sjekker Facebook oftere enn mailen sin, og slik sparer man tekstmeldinger på. Det beste er invitasjoner til events som fester, samlinger av folk med samme interesser eller ekstraforelesninger for de i gruppen til studiet mitt. Dette er den delen av Facebook som faktisk kan endre noe av real life oppførselen vår, men det er det ikke mange som har kommentert fordi alle er så opptatt av nettverksbygging og personvern.
Å, så lei. Hvorfor snakker jeg om dette? Det finnes andre sider ved Internett (andre sider på Internett?) som kanskje burde hatt kronikkplass i Aftenposten, men dette er bare kjedelig.
Facebook endrer svært lite; det er synliggjøring og oversikt over det som allerede finnes. Punktum.

Posted by Julie at 10:39 PM | Comments (3) | TrackBack
Hva er meningen med livet?
Hva er meningen med livet?
Hvis man spør Google, er det Soppeliten som har svaret. Slik har det vært lenge, og det er flere som har påpekt dette. Nå sist var det Mihoe, men det har tidligere blitt skrevet om Soppelitens spørsmål-og-svar side i relativt seriøse artikler om søkemotorer som jeg dessverre (arg!) ikke finner nå.
Jeg kjente Soppeliten da jeg var yngre, fra jeg var tolv til omtrent midt i videregående. Soppeliten var et av de mest interessante menneskene jeg visste om, og jeg lurte ofte på hva hun skulle gjøre med livet sitt. Det er mulig jeg maste på Soppeliten litt for mye, men det var bare fordi jeg ikke liker å se flinke mennesker sløse med evnene sine. Og det er vanskelig når barndomsvenninner forandrer seg.

Selv om jeg ikke er 100% sikker på hva Soppeliten gjør nå, vet jeg hva hun ble som "stor": altvitende guru.

Posted by Julie at 5:19 PM | TrackBack
May 4, 2007
Heartbroken
Just when
things were going so well
,
Pandora broke my heart
.
Posted by Julie at 2:41 PM | Comments (1) | TrackBack
April 30, 2007
Good news for internet radio
Despite my dilemmas over protesting, it seems that protests from Americans was enough. The Internet Radio Equality Act - good news for fans of Pandora and similar.
Posted by Julie at 11:13 AM | TrackBack
April 26, 2007
Ingen logikk
På samfunnsøkonomisk institutt, instituttet som skal lære meg om kostnadseffektivitet, leverer man inn oppgaver på denne måten:
Skriv og print ut oppgaven.
Vent på heisen.
Prøv å ta heisen til 12. etasje.

Oppdag at denne heisen ikke vil gå så høyt,
Bytt heis.
Ta heisen til 12. etasje.
Vent på at alle som jobber på samfunnsøkonomisk institutt skal komme tilbake fra lunsjpausen sin. (Dette er den første arbeidsplassen jeg har vært på på lenge der alle tar lunsj samtidig.)

Få et kopikort fra resepsjonsdamen.
Dra ned til 2. etasje igjen.
Prøv å kopiere oppgaven i like mange eksemplarer som det er andre studenter i klassen.
Slit.
Konkluder med at ingen av kopimaskinene virker.
Få dette bekreftet av andre som har prøvd det samme.
Opp igjen.
Forklar situasjonen.
Få lov til å legge oppgaven i hyllen til læreren.
Denne finnes ikke.
Foreslår oppgaveinnlevering over nettet.
Svaret: "Nei, sånt gjør vi da ikke her!"
Derfor er det merkelig at Humanistisk Fakultet, fakultetet som lærer om fjærpenner og runer, har egne lesesalplasser (med stikk-kontakter!!!) holdt av til studenter med laptoper (så vi kan bråke uten å forstyrre andre).
Det er nesten så jeg er litt lettet over at internett-tilkoblingen er svak på disse plassene. Ellers hadde det ikke vært noen logikk på Blindern i det hele tatt.
Posted by Julie at 12:47 PM | Comments (2) | TrackBack
April 17, 2007
Moderation isn't rocket science
While we're on the subject of "blame human beings, not technology", here's a quote:
Anonymous nastiness is easy to write, and will always find an appreciative audience. I don't care. It's not a manifestation of the free and open discourse of the internet; it's a thing that destroys that discourse. To be specific, it's the same old trashmouthed bullying we all know from junior high and high school. Putting it on the net doesn't cause it to develop any novel complexities or interesting emergent behaviors. It's just the same old sh*t. (From "Moderation isn't rocket science" by Teresa Nielsen Hayden)
Posted by Julie at 9:06 PM | TrackBack
April 16, 2007
Save internet radio
Men nå har jeg et lite dilemma: jeg er registrert på pandora.com under det som tidligere var min zip-code i USA, siden man egentlig må bo i USA for å få lov til å høre på pandora. Hvis jeg derimot skal protestere mot høyere royalties på musikk på internett-radio, må jeg oppgi addressen min. Skal jeg skrive en addresse som ikke er min, og til og med oppfordre alle mine ulovlig-pandora-brukende venner til å gjøre det samme, eller vil det egentlig bare svekke saken gjennom å synliggjøre hvor lett det faktisk har vært å bryte de reglene amerikanske myndigheter har satt opp for dette? Les videre for forklaring av saken.
From pandora.com, my favorite radio:

My deepest thanks to everyone who has been so supportive these past few weeks as we've confronted the stunning development with the internet radio royalty rates. It has been very heartening for all of
us to experience such a groundswell of support from our listeners.
Today, in coordination with a fast growing consortium of webcasters big and small, commercial and non-commercial, we are launching a campaign to reverse this pending disaster.
I hope you'll join us. To add your voice to this movement, please take a minute to sign the PETITION urging your representatives in congress to act at the new website Savenetradio.org.
And please share this petition link with friends: http://capwiz.com/saveinternetradio/home/
Our first goal is to demonstrate the magnitude of the injustice being committed here through the sheer volume of people it affects. We plan to rapidly follow this effort with the introduction of a bill in congress to protect ourselves once and for all from these predatory maneuvers.
The last couple weeks have made it quite clear to us that it's going to take nothing short of a major public outcry to reverse the results of this concerted campaign by the RIAA to shutter internet radio.
As awareness of this ruling and its consequences are spreading through the musicians' community, we are being joined daily by hundreds of artists and their organizations for whom internet radio has become such a promising new outlet.
Thanks again for your wonderful and on-going support. I hope you will become an
active part of this effort.
Best regards,
Tim (Founder)
Posted by Julie at 10:37 PM | Comments (1) | TrackBack
April 8, 2007
Posted by Julie at 1:35 PM | TrackBack
March 27, 2007
I used to believe...
I just told a friend that I was going to post a link to a site with a list of what people used to believe when they were children. So in order to disprove the dismal idea that I never blog what I tell people I will blog, I'm posting this link.
I think my favorite part of this site is the list of common beliefs, because I imagine entire generations believing that Anon is a real person and that cats and dogs are the same species - just as I did once.
Posted by Julie at 3:17 PM | Comments (1) | TrackBack
March 25, 2007
A reason to have a Mac
I want
this
now, thanks to
Jorunn
.
Posted by Julie at 10:16 PM | Comments (2) | TrackBack
March 15, 2007
Pandora Radio in trouble!
The following (in italics) is quoted from the blog at Pandora Internet Radio:

RIAA's new royalty rates will kill online radio!!
The Copyright Royalty Board (CRB) has recently released a revised fee schedule for internet radio. Left unchanged, these rates will end internet radio, period. The RIAA has effectively convinced this federal committee to establish rates that make online radio a non-viable business.
It's an utterly ridiculous ruling that renders any form of internet radio non-economic. We are continuing in the belief that sanity will return as everyone involved, including the 50 million avid online radio listeners, realize just how outrageous this is.
You can probably tell by this post that I feel strongly about this. Online radio has opened up a new world for musicians and listeners alike. It has brought millions of otherwise disconnected music-lovers back to music radio, and has opened up tremendous access and promotion for thousands of musicians - both obscure and well known.
We are striving very hard to build a business. We employ eleven full time people in our ad sales team, and despite very high licensing and streaming costs, believed that we could make it work over the next several years if internet advertising continues to grow. This ruling drives the licensing fees (fees that are NOT paid by terrestrial broadcasters) completely out of reach, and makes our goal impossible.
This is a terribly ill-conceived attempt to crush a powerful and positive grassroots movement that is sweeping across the music world. The record labels' struggles have nothing to do with online radio and killing it will further hurt their business, not help it.
Not only is Pandora Radio one of my favorite sites, it has changed the way I feel about music. Although I've been using this site a little less in the past two weeks (some of you may have noticed that the bookmarked songs in my sidebar haven't changed), since I first discovered Pandora, I have found so many artists and songs I love. This has been the year I really figured out what music I like, because suddenly I had so many more options. That the music industry could think that limiting my access to radio would make me buy more CDs is ridiculous. Why should I buy a CD from an artist I don't know anything about? Internet radio is not piracy.
Sign the petition and/or spread the word

Posted by Julie at 3:04 PM | Comments (2) | TrackBack
March 14, 2007
Blogging fra Egypt
Tora, som jeg studerer sammen med og som for tiden tar et semester i Egypt, har skrevet en tankevekkende liten kommentar om politisk blogging og ytringsfrihet. (Fra Internasjonalen, en fellesblogg for flere av medstudentene mine.)
Posted by Julie at 2:31 PM | TrackBack
February 21, 2007
Google-ranking 2: Kaffebarguiden
Ikke nok med at mitt bilde kommer opp først om man image-googler Julie Andersen, og min blogg kommer opp først om man søker etter According to Julie, men Kaffebarguiden er ganske søkbar også.
Jeg må først presisere at jeg har et liv...
Før jeg forteller at jeg søkte etter de forskjellige stedene jeg har anmeldt, og Kaffebarguiden kom opp på første resultatside i alle tilfeller. For La Sosta og U1 måtte jeg legge til ordet kaffe og for Java måtte jeg legge til kaffe og St. Hanshaugen, for i det hele tatt å få opp sider som handlet om kaffebarene. Men det må alle andre som evt. vil lese om kaffen de har her også gjøre.

Søker man etter "kaffebarguiden", har alle resultatene noe med denne bloggen å gjøre. Ikke verst...

Posted by Julie at 4:40 PM | Comments (3) | TrackBack
February 20, 2007
Update on the computer situation
Warning: I'm going to write about computers now.
Thanks everyone, for all comments, both real life and online. I'm typing this on my new computer! And no, it's not a Macbook. The fact that many of you "just prefer Apple to Windows" without being able to tell me why wasn't enough. Maybe if money were not an issue at all. But then again, I really don't like their keyboards. And I don't see what's so great about white. I wouldn't say that this computer is pretty, but I haven't ever called any computer pretty. I think it's relatively not ugly.

I'm going to miss my old computer, which I now refer to as "the little one", but I wasn't willing to spend the extra cash for a new version of the same thing.
I asked for an explanation of the Apple/Windows debate, and I found one. The full text can be downloaded here, but I'm posting an excerpt. It's not going to make my Mac-using friends happy, but Stephenson does say that he "embraced OS X as soon as it was available and have never looked back. So a lot of "In the beginning was the command line" is now obsolete." There is an updated version, now with monkeys, which will make these same friends very happy, and which I've also posted an excerpt from.
When I bought my computer, I wasn't thinking about any of this. All I really need is Firefox and Open Office attached to a good keyboard.

From In the Beginning... Was the Command Line by Neil Stephenson:

Imagine a crossroads where four competing auto dealerships are situated. One of them (Microsoft) is much, much bigger than the others. It started out years ago selling three-speed bicycles (MS-DOS); these were not perfect, but they worked, and when they broke you could easily fix them.
There was a competing bicycle dealership next door (Apple) that one day began selling motorized vehicles—expensive but attractively styled cars with their innards hermetically sealed, so that how they worked was something of a mystery. The big dealership responded by rushing a moped upgrade kit (the original Windows) onto the market. This was a Rube Goldberg contraption that, when bolted onto a three-speed bicycle, enabled it to keep up, just barely, with Apple-cars. The users had to wear goggles and were always picking bugs out of their teeth while Apple owners sped along in hermetically sealed comfort, sneering out the windows. But the Micro-mopeds were cheap, and easy to fix compared with the Apple-cars, and their market share waxed.
Eventually the big dealership came out with a full-fledged car: a colossal station wagon (Windows 95). It had all the aesthetic appeal of a Soviet worker housing block, it leaked oil and blew gaskets, and it was an enormous success. A little later, they also came out with a hulking off-road vehicle intended for industrial users (Windows NT) which was no more beautiful than the station wagon, and only a little more reliable.
Since then there has been a lot of noise and shouting, but little has changed. The smaller dealership continues to sell sleek Euro-styled sedans and to spend a lot of money on advertising campaigns. They have had GOING OUT OF BUSINESS! signs taped up in their windows for so long that they have gotten all yellow and curly. The big one keeps making bigger and bigger station wagons and ORVs.
On the other side of the road are two competitors that have come along more recently.
One of them (Be, Inc.) is selling fully operational Batmobiles (the BeOS). They are more beautiful and stylish even than the Euro-sedans, better designed, more technologically advanced, and at least as reliable as anything else on the market--and yet cheaper than the others.
With one exception, that is: Linux, which is right next door, and which is not a business at all. It's a bunch of Rvs, yurts, tepees, and geodesic domes set up in a field and organized by consensus. The people who live there are making tanks. These are not old-fashioned, cast-iron Soviet tanks; these are more like the M1 tanks of the U.S. Army, made of space-age materials and jammed with sophisticated technology from one end to the other. But they are better than Army tanks. They've been modified in such a way that they never, ever break down, are light and maneuverable enough to use on ordinary streets, and use no more fuel than a subcompact car. These tanks are being cranked out, on the spot, at a terrific pace, and a vast number of them are lined up along the edge of the road with keys in the ignition. Anyone who wants can simply climb into one and drive it away for free.
Customers come to this crossroads in throngs, day and night. Ninety percent of them go straight to the biggest dealership and buy station wagons or off-road vehicles. They do not even look at the other dealerships. Of the remaining ten percent, most go and buy a sleek Euro-sedan, pausing only to turn up their noses at the philistines going to buy the station wagons and ORVs. If they even notice the people on the opposite side of the road, selling the cheaper, technically superior vehicles, these customers deride them cranks and half-wits. The Batmobile outlet sells a few vehicles to the occasional car nut who wants a second vehicle to go with his station wagon, but seems to accept, at least for now, that it's a fringe player.
The group giving away the free tanks only stays alive because it is staffed by volunteers, who are lined up at the edge of the street with bullhorns, trying to draw customers' attention to this incredible situation. A typical conversation goes something like this:
Hacker with bullhorn: "Save your money! Accept one of our free tanks! It is invulnerable, and can drive across rocks and swamps at ninety miles an hour while getting a hundred miles to the gallon!"
Prospective station wagon buyer: "I know what you say is true...but...er...I don't know how to maintain a tank!"
Bullhorn: "You don't know how to maintain a station wagon either!"
Buyer: "But this dealership has mechanics on staff. If something goes wrong with my station wagon, I can take a day off work, bring it here, and pay them to work on it while I sit in the waiting room for hours, listening to elevator music."
Bullhorn: "But if you accept one of our free tanks we will send volunteers to your house to fix it for free while you sleep!"
Buyer: "Stay away from my house, you freak!"
Bullhorn: "But..."
Buyer: "Can't you see that everyone is buying station wagons?"


And now, with monkeys, added by Garrett Birkel:
(...) if you buy an Apple sedan, you also receive a little monkey in a snappy blue suit. Your personal X-Monkey (as the company calls him) is the ideal driver of your Apple sedan. He knows where everything is, feeds and washes himself, drives defensively, and will even tune up the car for you. X-Monkey will accept precise instructions like, "forward 10 feet, right 20 degrees", but he is smart enough to think on his own, so you can tell him "Drive me to a taco stand, then pick up Uncle Steve". He will also keep you out of trouble, by politely ignoring instructions like, "Run over that jogger", and "Floor it", when you're at a red light. Depending on your temperament, this could actually be a downside.
The X-Monkey comes from a line of monkeys originally bred by the military for the purpose of driving tanks. It's a good fit, because the modern Apple sedan is actually a tank in a fancy shell. The X-Monkey's only drawback is that he can only drive a car from Apple. Show him any other vehicle, and he won't even know how to operate the door lock.
Meanwhile, the free-thinking Linux people, displeased with genetic engineering, have created their own smart monkey chauffeurs through a massive international breeding program. Unlike the X-Monkey, the Linux Monkey is capable of driving any car, including the Apple sedan. If you could install a steering wheel on a log splitter, the Linux Monkey could drive it for you. The catch is, you have to train the Linux Monkey yourself. Fortunately there are experts everywhere who will help you out, and the Linux Monkey trains easily.
The Microsoft Gorilla, on the other hand, cannot be trained. Instead, you must keep rephrasing your directions until the MS Gorilla can comprehend them. He consumes both front seats, lowering the mileage of your car, and blocking most of your view. Though he sounds like a bad deal, MS Gorilla is actually extremely popular, because he looks impressive, drives aggressively, and keeps his mouth shut. If you speak in his limited vocabulary, he will take you Where You Want To Go Today ... especially if he can plow monkeys off the intervening road. However, if you touch anything on the dashboard, or try to haggle with him over the exact route, he may become irritated and casually drive your car into a telephone pole. People learn to not argue.
The point to this altered metaphor is that the Microsoft dealership, and the Linux collective, do not really make cars at all. All those shiny automobiles sitting on the lot and lined up on the street corner are re-branded vehicles, manufactured by other companies. However, their modern instrument panels are so confusing that they'd be useless without a chauffeur. ... And the Microsoft dealership gets a cut from the price of every vehicle that leaves their lot, piloted by the Microsoft Gorilla.
If you were so inclined, you could purchase a car from them, drive to the sidewalk, and kick the gorilla out onto the curb. The Linux Monkey can hop right in and start driving for you. Of course, Microsoft already has your money, and what are you going to do with a spare gorilla?
Contrast this with the Apple dealership, that personally designs and assembles every Apple sedan. When a sedan leaves their lot, they pocket the whole amount. You could still kick out the X-Monkey any time, but why would you? The Linux Monkey is basically the same, without the training.
Posted by Julie at 7:03 PM | Comments (6) | TrackBack
February 16, 2007
Rot i systemet
Heidi skriver en liste med forslag (med fordeler og ulemper for hvert forslag) for hva man kan gjøre med forelskelse.
Og mens vi først er inne på temaet "tekster som beskriver hvordan ordensmennesker tenker når de er forelsket", her er en linje fra sangen "Mystery" av Indigo Girls, som jeg ikke får ut av hodet: "You set up your place in my thoughts, moved in and made my thinking crowded."
Posted by Julie at 6:46 PM | Comments (2) | TrackBack
February 1, 2007
Rambukk igjen
Gratulerer, Rambukk, igjen!!!
Du har skrevet både kommentar 100 og kommentar 200.
Premie: Jeg hadde tenkt til å la begge vinnerne (altså deg og en annen) gi meg en bloggeoppgave. I tillegg skulle dere få kaffe. Dermed både innflytelse og koffein - det må jo være bra. Men når du vinner dobbelt, er ikke disse premiene nok. Siden jeg allerede har linket til deg ørten ganger (og din blogg uansett har flere lesere enn min), teller ikke pr som premie i seg selv. Og nevnte bacheloroppgave skal uansett ut på nett når den blir ferdig. Så hva ønsker du deg?
Til dere andre: Er du skuffet over at du ikke selv får en premie du kan bestemme selv, er det bare en ting å gjøre. Kommentar ofte, og plutselig er det på tide å premiere nr. 300...
Posted by Julie at 4:18 PM | Comments (2) | TrackBack
January 25, 2007
Turning water into whisky
This is the second entry in a row where I'm simply copying Rambukk, but in honor of Richard Feynman (one of my heros), I just have to link to this YouTube video that shows how fun physics can be.
Posted by Julie at 2:54 PM | Comments (1) | TrackBack
An interesting experiment
Is it possible to locate a man, given only his photograph and first name?

A UK games company is testing the power of the Internet by asking that very question; they have recruited one of Earth's 6 billion residents - a man named Satoshi - to participate in this experiment.

We are each only five to seven people away from any target in the world - or so people say. Someone, somewhere, knows Satoshi - so we must track these people, and thus Satoshi, down using word-of-mouth communication. People from over 80 countries are already participating in the hunt, with more joining every day.
For more information, visit the website.