« August 2011 | Main | October 2011 »
September 28, 2011
Mac/PC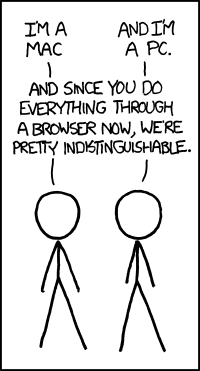 Image source: XKCD
Posted by Julie at 1:30 PM | TrackBack
September 23, 2011
Quick update
I have just moved to London for a one-year Master of Science in Economic History at LSE. School starts in about a week. My wrist is completely healthy, and my new laptop has plenty of half-finished blog posts. I am in the process of moving for the fourth time in two months.
Posted by Julie at 12:29 AM | TrackBack
September 22, 2011
Innovasjon Verden?
Hvis bistandskritikerne har rett, driver Norge med bistand først og fremst fordi det gir oss god samvittighet - ikke fordi det virker. Hvis vi tar den mest kritiske bistandskritikken på alvor, bør vi slutte. Men hvordan skal Norge da redde verden?
Det har Kristian Meisingset, Amara Butt og jeg brukt deler av sommeren på å finne ut av, og resultatet er i den nyeste utgaven av Minerva, som lanseres på Civita-frokost torsdag.
Les artikkelen her: Etter bistand
Les også:
Posted by Julie at 12:54 PM | TrackBack
September 21, 2011
Reading, not writing
Image source: photoquoteography